You can keep Christmas. You can keep Easter as well. And, while we're at it, you can keep New Year. If there's one date on the calendar (well, it's on our calendars, at least) that we look forward to most at Whisky Foundation, it's World Whisky Day.
Quite simply, it's an excuse to celebrate everything you love about whisky and enjoy a dram or two with friends. (Not that we ever need an excuse, mind.)
What we especially like about World Whisky Day, though, is this statement on their website:
World Whisky Day is all about making whisky fun and enjoyable. It's not about being exclusive or prescriptive. You can drink it however you enjoy it (ice, water, mixer – whatever works for you). We want to be all inclusive and that means any kind of whisky/whiskey from anywhere in the world.
At Whisky Foundation, we're all about making whisky as inclusive and fun as possible. So why not treat yourself to a bottle and introduce a friend to the wonderful world of whisky this World Whisky Day?
5 of the best independent bottlings for World Whisky Day: 
Highland Park 27 Year (Rest & Be Thankful, 1989)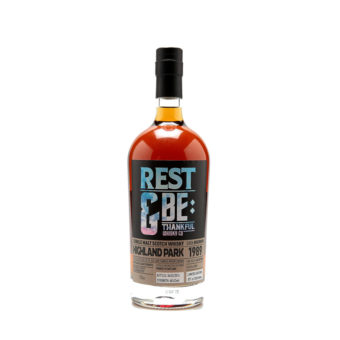 This Highland Park single malt, aged for 27 years in a bourbon cask by Rest & Be Thankful, was bottled at 48.4% ABV.
If you're looking for a slightly different independent bottling, this might be the bottle for you. It starts with a distinctly Highland Park smokiness on the nose, followed by citrus and oak on the palate and a herbal finish.
It's not an easy whisky to get along with, but it's more than worth the effort.
Port Charlotte 13 Year (Maltman, 2002)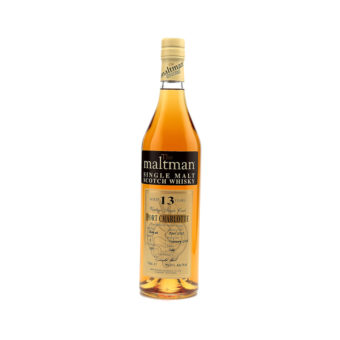 If you're a fan of heavy peated whisky, you're in for a treat with this 13 Year Port Charlotte, bottled by Maltman and exclusive to Whisky Foundation.
Maltman aged it for 13 years in a sherry cask to add that signature sherry sweetness, bottling it in 2015 at 50.30% ABV. (They didn't chill filter or add colouring, either.)
Glenlossie 18 Year (Maltman, 1997)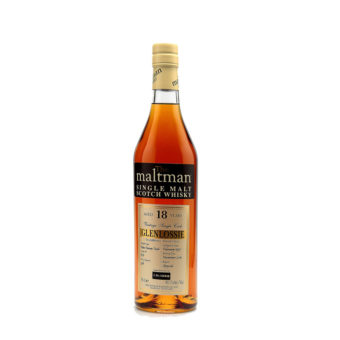 Another Whisky Foundation Exclusive, this single malt is not only an opportunity to get your hands on a fantastic single cask whisky with a Pedro Ximenez finish, but an opportunity to experience a single malt produced by a lesser-known distillery that is known among whisky drinkers for its fantastic Speyside.
Bowmore 30 Year Crystal Decanter (Sar Obair, 1985)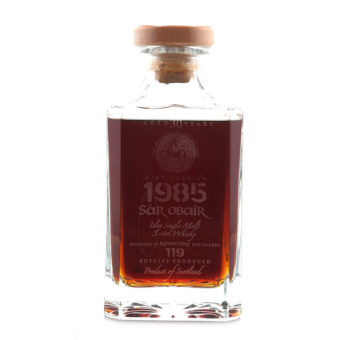 Bowmore 30 Year, an incredible single malt presented in a crystal decanter. This whisky was released by Kingsbury under the Sar Obair label and – just look at it, isn't it a thing of beauty? But it's not just about the magnificent look. This whisky tastes every bit as good as it looks. Distilled in 1985 at Bowmore on Islay then aged for 30 years, this bad boy has been bottled at 56.3%. Oh yes.
Benrinnes 18 Year (Maltman, 1997)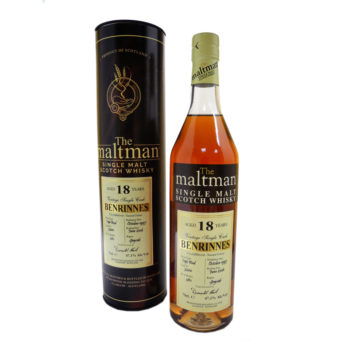 This lovely Benrinnes single malt has been matured not once, not twice, but three times. First for 17 years in a bourbon cask, then for 6 months in ruby port cask followed by final maturation stint in a Pedro Ximinez cask for a sherry finish. And boy, was it worth the extra effort. The nose has some sweet barley. The palate has toffee and dark chocolate, with little hints of Christmas cake, treacle and figs. The finish is warming, with a bit of marzipan and some sweet smokiness. (If there's one that you have to try, it's this one!)
Here at Whisky Foundation we're all about independent bottling, championing the likes of Gordon & MacPhail, Signatory Vintage, Kingsbury, Rest & Be Thankful, Sar Obair and The Maltman. We also offer a selection of WF exclusive expressions from the top distilleries, including Laphroaig, Macallan, Port Charlotte and Caol Ila.