If you read our guide to the whisky regions of Scotland, you'll know that there are tonnes of distilleries across the entirety of Caledonia. (To be precise, there's 99. Can you name them all?)
And yet, there are a select few that are always held in very high esteem, by both whisky drinkers and in non-whisky-buff circles.
The Macallan is one of them.
But why?
Well, for a start, it's one of the best-selling distilleries in the world. They sell a staggering amount of whisky every year; over 700,000 to be precise.
But that can't be the only reason for the love and adoration they receive. (Jack Daniel's sells a lot of their sugary-sweet honey whiskey too, so there's that logic dead in the water.)
Another reason is its history and sense of prestige. The Macallan distillery is old. It was founded in 1824 by Alexander Reid, a local barley farmer, and run by locals. After 70 years of producing incredible whisky, Roderick Kemp bought the distillery and made it his personal mission to spread the word about The Macallan's outstanding whisky.
After Kemp's input, there was a huge boom in popularity, and soon after The Macallan was known across the world as a synonym for quality whisky.
And that legacy has lasted for over a century.
Want proof?
How about the 007 seal of approval?
(It's also the official Scotch of the House of Commons, which is no small feat.)
Of course, with the popularity, came extraordinary tales of huge sums paid for rare bottles.
In 2005, a bottle of The Macallan Fine & Rare 1926 reached the world record price of £36,000 at auction.
After that, in 2010, a bottle of The Macallan 64 years old sold for $460,000, breaking the world record again.
But it's not just marketing and Bond endorsements that make The Macallan so special 
It's the taste.
The only reason Roderick Kemp bought The Macallan was because of the exceptional whisky it was producing.
And to this day, nothing has changed.
There's a reason they're known the world over for their exceptional whisky.
The Macallan consistently produce whiskies that are a prime example of everything a single malt should be. Malt notes are typically clear, and the effect of wood in the aging process is always apparent.
You'll often find that Macallans are deliciously smooth. Notes of rich dried fruits and sherry are common too, often balanced out by woodsmoke and spice. (You want a dram now, don't you?)
(Admittedly, sometimes, The Macallans could be a little more complex, but that's just us nit-picking. And if you want a complex Macallan, you need only look for a Macallan IB…)
Our favourite Macallan independent bottling
It wouldn't be a Whisky Foundation blog post if we didn't talk about independent bottlings would it?
But this wasn't an easy choice.
There are lots of Macallan expressions we're proud to have in our store. Picking just one was tough.
But we finally settled on one.
Drum roll, please.
Macallan 30 Year (That Boutique-y Whisky Company)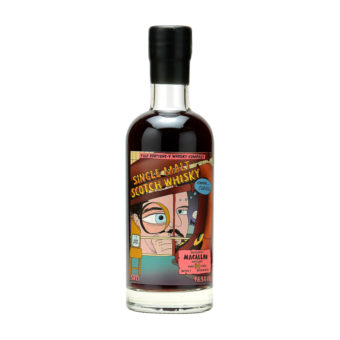 You might have noticed that we love well-sherried whiskies here at WF, so it'll come as no surprise that this Macallan is sherried and then some.
And it's a real treat.
It's wintery, Christmassy and warm.
Imagine stepping into a warm country pub on a Christmas Eve. It's been snowing, and you manage to grab a table next to the open fire. In the distance, there's a choir singing Christmas carols, but it's only just noticeable over the hustle and bustle of the pub, the chinking of glasses and the crackling of the fire. The table next to you has just set their Christmas pudding on fire and you can pick up the aroma sherry and fruit over the smell of the roaring fire and popping logs.
Now imagine you can taste that.
That's what this Macallan tastes like.
You'll get rich sponge cake notes and Christmas pudding on the nose, with just a touch of caramelised sugar, but then, as it hits your tongue, you'll notice hints of ginger and dark chocolate beneath the oaky richness. To finish, you'll get dark fruits, mixed nuts and gingerbread for a perfect Christmas finish.
If you're thinking of getting a bottle in for the colder months, then look no further.