There's nothing we love more at Whisky Foundation than seeing an independent bottler appear with a bang and then consistently produce whisky after whisky after whisky that blow us away.
(Well, there is: drinking whisky after whisky after whisky that blow us away.)
And, if you've never heard of Rest & Be Thankful, then you're in for a treat because they're an independent bottler that does just that.
Rest and Be Thankful: a brief history 
The brainchild of two colleagues, Eamonn Jones and Aidan Smith, who also run Fox Fitzgerald Whisky Trading Company, Rest and Be Thankful is the result of a lifelong dedication to producing and selling the very best whisky.
Smith and Jones worked together at Whyte and Mackay Ltd and then established Fox Fitzgerald in 2010. From there, they worked very closely with Bruichladdich, the Islay distiller with a reputation for doing things a little differently.
As Smith and Jones moved on with Fox Fitzgerald, they began to sell and package their whiskies a little differently. There was a strong focus on producing a great looking product (as well as a great tasting whisky).
A little while later, Bruichladdich was sold off.
But this didn't deter Smith and Jones.
They spoke to all of the Directors and Shareholders – who had managed to amass a huge collection of incredible Bruichladdich, Octomore and Port Charlotte casks – and proposed bottling them under one independent label: Rest & Be Thankful.
The name comes from a landmark on the A83.  As you make the whisky pilgrimage between Islay and Campbeltown, there's a stone just at the summit of the hill (the A83 is pretty steep) that reads 'Rest and Be Thankful'. It was inscribed by the soldiers who built the road in 1753, presumably after weeks and weeks of hard work.
It has now become tradition for travellers to take a pew, look at the view and be thankful that they've reached the top.
And what better name for a whisky?
Here are a few of our favourite Rest and Be Thankful bottlings: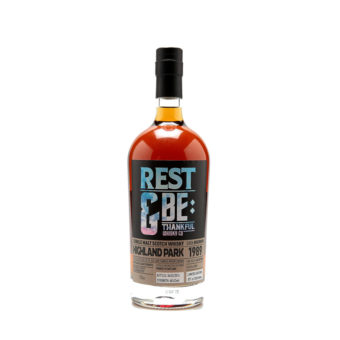 Oh boy. Let's start with a cracker of a whisky.
This whisky was distilled on October 26th, 1989 then aged for 27 years in a single bourbon cask until, on February 4th, 2016, it was bottled at 48.4%. (Of course, there was no chill-filtering or colouring at all.)
And it's quite something.
On the nose, you're hit with that classic Highland Park character; smoke. Like a huge hit of bonfire, the whisky grabs your senses and assaults them with smoky aromas. But then, there's a little flicker of something else. A flash of something a little more subtle; lingonberry.
As you take a sip, you're treated to hints of citrus and oak. It's a delight. As you build towards the finish, you notice a slight note of honey.
Then, as always with an Island whisky, the crescendo comes with a huge hit of herbal smoke.
It's really quite something.
If you're a fan of smoky, bold whiskies – this is a real treat.
Here's another treat for you. Springbank whiskies are special enough on their own, but when they've had the Rest and Be Thankful treatment?
Oh yes.
This whisky was distilled in 1991 then aged for 25 years in a bourbon barrel until it was released to the world.
And boy, can you can tell that it was aged in the bourbon barrel.
On the nose, you'll get that sweet, vanilla smokiness that comes from the bourbon cask. Then, as it hits your tongue, you'll get a smooth mix of sweet dough, peat, smoke and butter. It's smooth as hell.
And, as with any peaty whisky, you'll continue to get the peat all the way to the finish.
It's good.
It's very, very, very good.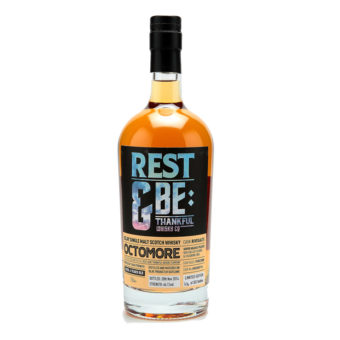 This is an Octomore, so if you don't like peat, close the tab now.
This is PEATY.
As Octomore is the most heavily peated whisky in the world, you should expect huge hits of smoky goodness.
But it's far more complex than that.
Far, far more complex.
On the nose, you'll get a rich mix of salted butter, cured meats, leather, wood and sugar. It's almost like a buffet table of goodness; you've got the rich buttery smells, the almost smoky cured meats, the sugary delights and the smell of wood. (I couldn't think why there'd leather on a buffet table, but let's just ignore that…)
As you get to the palate, you're hit with waves of sweet melon with herby notes. But then, all of a sudden, you notice the peat rising up. Soon, a hit of earthy smoke arrives in a crest of sea salt and vanilla notes. This wave just keeps going and going, leading to a long and smokey finish.
Fantastic.
Really, genuinely, out-of-this-world fantastic.
Have you tried a Rest & Be Thankful bottling? What did you think? Let us know in the comments or on social media!