Young Whisky: While spirit has to be matured for at least 3 years to be considered whisky, anything between that and 10 years old is generally thought of as a young whisky.
If you are an avid reader of our Whisky Foundation blog, you will remember that back in May we looked into whether older whisky is, in fact, better. We weighed up the pros and cons and came to the conclusion that while it would be too bold to say that there are no obvious benefits to letting a whisky age longer, it would be equally too bold to state that older whisky is categorically better. There are undoubtedly positives to both methods.
Letting the spirit mature for longer periods of time definitely allows the cask to impart a fantastic depth of character and range of flavours on the spirit, but bottling after a shorter maturation period can allow for stronger peaty notes to be showcased along with giving a more accurate representation of a distillery's character.
When a spirit is initially produced it can already be truly flavoursome, but also fiery and aggressive, attacking your senses with an unusual punch and bitterness. The maturing process helps to quell this heat and kick, as well as adding new external flavours.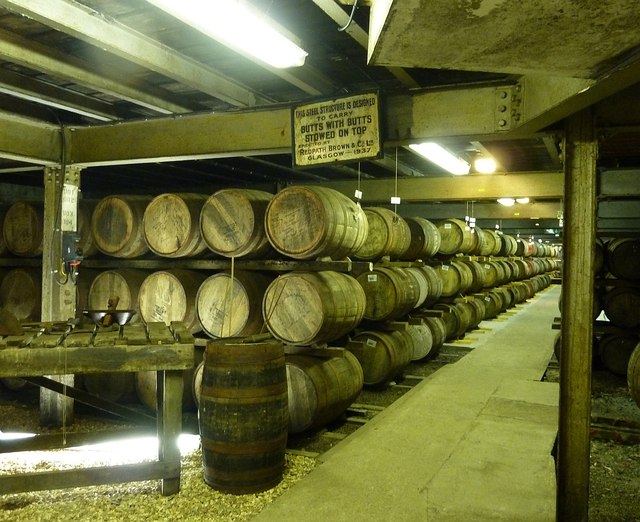 Developing a young or NAS whisky that exhibits the distillery's style, while lacking in that unwanted bitterness and aggression, is no mean feat. There are plenty of things that distillers must consider, perhaps most importantly – the selection of a good cask.
Glenmorangie's head of whisky and whisky creation, Dr Bill Lumsden, has come to be seen as something of a pioneer in wood-management. In an interview with The Telegraph he outlined what he sees as the key factors in producing a top-quality young whisky, of which Glenmorangie have several:
'The starting point is having good whisky spirit, if you have that then you need good wood, then you have a range of flavours available. Regardless of what you are doing, young whisky in bad wood will be ruthlessly exposed.'
With demand for older whiskies now far outweighing supply, recent years have seen a sharp increase in the production of non-age statement (NAS) drams and bottlings aged between 4 and 10 years old. With so many options now available in this category, it can be hard knowing whether the young whisky that you are buying meets these requirements. Basically, is it worth your time?
There are undoubtedly bottles out there at the moment that are not. The issue with this rise in young whisky is that it has become something of a trend and trends all too often lead to quality being sacrificed.
Darren Leitch, The Whisky Shop

'There are some good younger or no-age-statement whiskies on the market that can be exceptional, like Ardbeg Uigeadail and Aberlour A'bunadh, but my concern is that many are simply copying Macallan and others with not enough thought.'
So if your not all that familiar with drinking young whisky, how do you go about avoiding these copycats and making sure you get the good stuff?
Picking a good one
To start with, if you're a big fan of peated drams, a young whisky may be exactly what you're looking for.
As a whisky matures in a cask, the strong, smoky peat flavours will slowly dissipate, making way for cask-imparted oaky flavours. Don't get us wrong, peat can definitely still be detected in older drams (look at this Ardbeg 18 for example), but if you like your peat to smack you in the face like a strong Scottish wind, younger whisky will provide this without so much as a 'how are you?' (in the voice of the legendary Richard Paterson).
If that's what you're looking for, Islay is naturally a great place to start. Distilleries like Caol Ila, Ardbeg and Bruichladdich have produced some really delightful adolescent drams that are well worth trying.
That's not to say that young un-peated whisky should be avoided. On the contrary, there are many distilleries that have mastered the art of producing smooth and delicious younger expressions.
Glenmorangie have been doing it for years. Their Original (at 10 Years Old) and their Tusail (NAS) are prime examples. Macallan, Benromach, Aberlour and Talisker are some others that have received praise for their creations.
If you're still unsure, indie bottlings offer much less room for error. We know what you're thinking – of course we would say that, we are the home of indie bottling after all. But hear us out.
Indie bottlers have been releasing young whiskies for decades. They hand select their casks and this involves tasting the whisky. It's far less likely that you will find a poor quality, young indie whisky, as the bottling companies are far more particular about what they are looking for from a cask and they are most certainly not following a trend. If it tastes bitter, harsh or aggressive, it simply won't make it to the bottle.
Is young whisky a gateway or a new world?
Young whisky production is certainly improving as more and more distillers take the time to learn the process behind creating a fantastic one. They provide an honest (and often cheaper) entry point for those looking to decide whether or not they are a fan of a distillery's style.
It could be said that they are a gateway to older whiskies, allowing you to get a taste before moving on to older, sometimes more refined drams, but that would be to suggest that they are simply a stepping stone when in reality they are much more than that. It is true that young whisky has become something of a trend and identifying who's jumping on the bandwagon and who knows their stuff can be difficult, but if you manage it – there is a whole new world to be explored.
Some Recommendations
Benromach 5 Year Old – An exceptional creation that was made with 80% bourbon cask matured and 20% Sherry cask matured spirit. Notes of citrus fruits and hints of butterscotch are backed up by the distillery's classic smoky flavours.
Aberlour 10 Year Old – Matured in a combination of ex-bourbon and ex-Sherry casks, this dram is one of the finest younger whiskies you will find in Speyside. Sweet and full bodied, this dram offers notes of raisins, spicy fruitcake and honey.
Macallan 7 Year Old – For this one, Macallan insisted on using only the finest of Sherry casks that they sourced directly from Jerez, Spain. The combination of the top quality cask and Macallan's expert distilling skills has created something that is well-rounded, honest and smooth.
And some from Indie Bottlers:
Octomore 6 Year Old (Rest & Be Thankful, 2007) – Part of Bruichladdich's "Super Heavily Peated" Octomore range, this one comes with peat, peat and more peat. It really does take a peat lover to enjoy this, but if you give yourself time to adjust to the smokiness you will start to detect a whole world of fruity and oaky notes.
Old Pulteney 7 Year Old (Three Rivers, 2006) – A cracking 7 Year Old that was bottled by The Whisky Agency and Japanese indie bottler Three Rivers, specifically for the Japanese market. It is fresh, flavourful and has a nice finish that keeps you coming back for more.
Talisker 5 Year Old (Kingsbury, 2008) – Aged in a bourbon cask for just 5 years, this Talisker combines notes of oak and hints pepper and chilli with the maritime flavours that you would expect from the Skye based distillery. The result is a delightful whisky that succeeds in taking you on a journey from still to glass.
'The Unknown' Islay single-malt (The Whisky Agency, 2007) – A mystical and intriguing release from an unknown Islay distillery (hence the name) thought to be Lagavulin. Aged for 8 years in an ex-Bourbon hogshead cask, this is a great example of a peated whisky that starts off elegant and subtle before coming forward with packets of smoke and ash towards the finish.