If you can remember as far back as June (the height of the Scottish 'summer'), we confessed to enjoying a few whisky cocktails when the weather is hot (shocking we know – it's never hot in Scotland). Well we have another confession to make, we like a few at Christmas time too.
They help to warm us up and remind us that no matter how many hours of the day we have to spend indoors, we can always amuse ourselves by playing mixologist for an hour or so. Okay, we'll be honest, we're just bored.
If you're feeling the same, and fancy impressing a few pals with your bar skills, give these Christmas whisky cocktails a bash, you won't be disappointed (we hope).
The Cinnamon Whisky Sour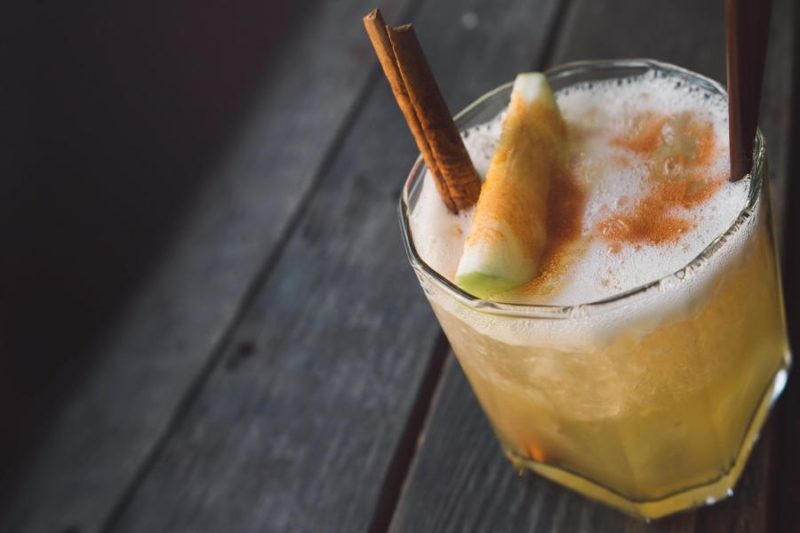 The cinnamon whisky sour is a well known whiskey (with the 'e') cocktail that is normally made with a good quality bourbon, but we've found that a Sherry cask matured Scottish dram adds a spicy kick that works wonders on the palate.
Ingredients:
1.5 oz Sherry cask matured whisky with a bit of spice – This Mortlach 24 (Signatory) would be perfect
1 oz Fresh lemon juice
1 oz Maple syrup (or honey if you don't have maple syrup to hand)
1 pinch of ground cinnamon or 1 cinnamon stick
Method:
Fill a shaker 3/4 full with ice. Add your whisky, fresh lemon juice, maple syrup and a pinch of cinnamon (if you have opted for a cinnamon stick, keep it on the side for now).
Tightly fit the lid and give it a good shake (should keep you warm in the process).
Fill a glass with ice and strain your Christmas whisky cocktail over the top.
If you're using a cinnamon stick, pop it in and gently stir for 20-30 seconds. Leave it in the glass.
Garnish with a little ground cinnamon, a lemon slice and enjoy!
The Thistle (with a twist)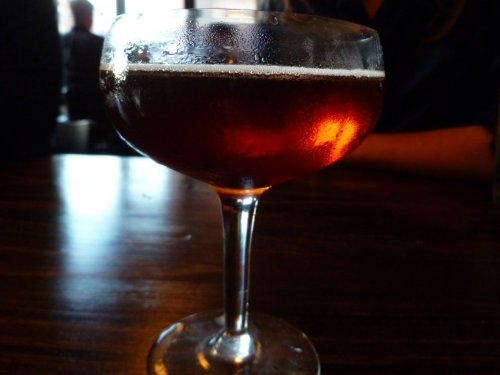 This beauty was brought to us by the head bartender from the Savoy's American bar in the 1920s and it really is a masterpiece in it's own right. As a result, we feel a little cheeky giving it our own twist, but it works so why not?
Ingredients:
1 oz peated whisky (un-peated in the original recipe) – Something like this Port Charlotte 13 (The Maltman) is ideal.
1 oz good quality dry Italian Vermouth
2 dashes Angostura bitters
Squeeze of lemon
Method:
Pour the whisky, the dry vermouth and the bitters into an ice filled shake.
Shake it up!
Strain into an empty cocktail glass (no ice!).
Add a small squeeze of lemon to the top.
Drink.
The Hot Toddy
If I didn't include this, every Scottish mother ever would be at my door, and we certainly don't want that. This is fantastic for curling up on the couch and it helps rid you of your cold too (it really does work).
Ingredients:
2 oz water
1 piece of ginger, peeled and sliced
1 strip of lemon peel
1 cinnamon stick
2 oz of bourbon cask matured whisky – This Longmorn 25 (Signatory) works well.
1 small squeeze of lemon juice
2 tspn honey
Grated nutmeg
Method:
Put the water in a pan and warm it.
Add the ginger, lemon peel and cinnamon stick. Bring to a gentle simmer.
Warm a heatproof glass or your favourite tea mug with some hot water from your kettle.
Pour your whisky into the warm cup and add the water and spices.
Add honey and lemon juice. Test for sweetness and adjust accordingly (or even add more whisky!).
Dust with ground nutmeg.
Curl up under your duvet and enjoy.
That's it for Christmas whisky cocktails…
But would it be Christmas if we didn't have a recipe for a special Whisky Foundation eggnog? We think not. For this one we've hand selected an absolutely stunning rum that is part of the famous Rum Nation series – Caroni Sherry finish. This beauty is light, with lots of notes of oak and vanilla. It's perfect.
Whisky Foundation Eggnog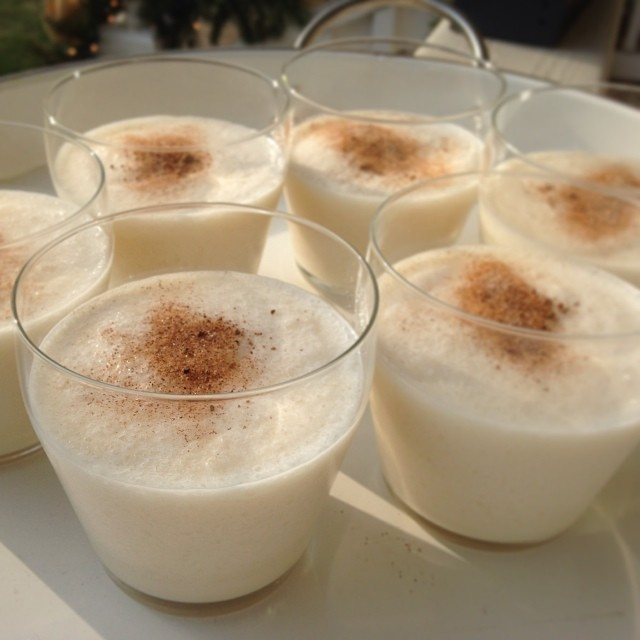 Ingredients:
3 Medium Eggs
2.5 oz of Golden Caster
9 oz  of Milk
7 oz of Double Cream
6 oz Caroni Sherry finish Rum
Grated Nutmeg or cinnamon
Method:
Separate the egg yolks from the whites and whisk up the yolks with 1.5 oz of sugar.
Stir in the milk, double cream and the beautiful Caroni Sherry finish rum.
Pour into containers and refrigerate. This mixture will last up to 2 weeks before spoiling.
Place the egg whites in a container and freeze until you are ready to use.
Defrost the whites and whisky in a bowl. Add the remaining sugar and whisky until soft peaks form.
Put the refrigerated eggnog in a large bowl and gently fold in the whites.
Ladle into glasses and sprinkle with a little nutmeg or cinnamon (depending on prefernce)
Huddle round the fire and enjoy!