It's time to have a look at our Distillery of the Month. For February we have decided to go with one of our favourite Islay distilleries, a place that really needs no introduction – Ardbeg.
The world famous distillery is one with a history full of ups and downs (more ups in recent times) that dates back over 200 years and an expression list to be drooled over. They have won countless awards in recent times and are purportedly the home of Scotland's first female distillers. On top of that they have lead the way in the world of non age-statement whiskies (NAS), producing various excellent expressions.
Early days
Whisky was first produced on the site of Ardbeg distillery in 1798. They operated illegally (as did many distilleries at the time) for around 17 years, until in 1815 John Macdougall gained a license, making things official.
In 1838, Thomas Buchanan bought Ardbeg for £1,800 (around $2,500), which was a huge amount of money at the time. The new owner, while excited by his new business venture, took no immediate interest in the running of the operation.
This was left down to John Macdougall's son, Alexander.
Buchanan presumably lacked the expertise and knowledge to run Ardbeg at this time, so he made the smart business decision of allowing Alexander to run things.
Alexander Macdougall did so with great success until his death in 1853, at which time his sisters, Margaret and Flora, took over joint leadership with Colin Hay.
Ardbeg's website claims that this may mean that they are "rightfully Scotland's first female distillers". While this cannot be verified for certain, it is an achievement and something to be proud of nonetheless.
Hay eventually acquired the distillery for himself and ran it for over 50 years.
Nearly all of the spirit produced there in these early days was to be used in blends.
Trials and Tribulations
The 20th century saw Ardbeg go through its toughest times since it was founded. The distillery came under new ownership several times (initially the Macdougalls reacquired it and then in 1977 Hiram Walker took over) but success was very limited.
They were forced to close their doors during The Great Depression, as was the case for many of Scotland's distilleries. After a rather brief reopening period, they closed again in 1981. This time the distillery would not operate at full capacity again for nearly 16 years.
One saving grace for Ardbeg is that, while they had many financial issues and were struggling to become recognised as a producer of top quality single malt whisky, in the background they were still producing some spirit that was quite exceptional (at least in the years when the distillery was open).
A taste of success
Ardbeg finally began to get a taste of success when Glenmorangie plc took over in 1997. They managed the distillery with a great degree of care and attention, something that had been missing over the previous hundred years.
They looked at the large number of casks that were stored in the Ardbeg warehouses and began identifying the ones that they saw as single malt quality spirit.
A 17 Year Old was released and whisky lovers everywhere lapped it up. This was a truly stunning whisky, one that just couldn't be ignored.
What followed was a series of releases of yet more excellent whisky (including their now famous flagship 10 Year Old).
A huge surge in the popularity of NAS whiskies and Islay whisky in general gave Ardbeg the perfect opportunity to push on.
They released their Uigeadail and Corryvreckan expressions and received huge acclaim. Soon after, the awards began to pour in.
Ardbeg has now won World Whisky of the Year in four out of the last seven years, a truly astounding achievement, particularly when you consider the state the distillery had been in just over 20 years ago.
They continue to produce excellent whisky on a regular basis and have even started to release some of their older, rarer stock in recent years (either as official bottlings or through indie bottlers).
From the WF archives
So that's how this world-renowned distillery got to where it is today (as big fans, we're sure glad they pushed through). Here's our recommendation from the Whisky Foundation archives.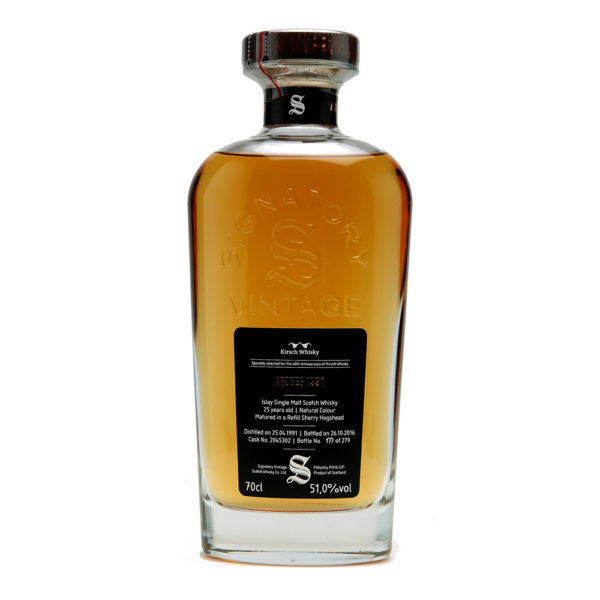 This 25 Year Old from Ardbeg and Signatory Vintage is an astounding whisky that has a fantastic depth of character and flavour.
It was produced in 1991 (at a time when the distillery was only partially open) before spending 25 years maturing in a refill Sherry hogshead cask. It has a fantastic light golden, slightly peachy colour that is all natural.
As you would expect from a Sherry cask matured whisky, it brings notes of raisins, dark fruits and hints of chocolate. This whisky also offers hints of oak and malt though and, to a trained nose, there is just so much on offer.
The finish is juicy and lengthy, allowing you to take your time to savour the experience between each sip.
A real delight that will not let you down.