Once again it is time to look at our Distillery of the Month. For March, we've selected one of our favourite Speyside distilleries, one that is steeped in history (having been around since the early 19th Century) and produces some of the finest single malt whisky anywhere in the world – Glenlivet.
Early Days
The distillery was founded in the Livet Valley in Speyside, an isolated location where illegal distillation could be carried out without the knowledge of the dreaded exciseman.
Glenlivet's founder, George Smith, learned his trade here, illegally distilling spirit for a number of years, trying to perfect his craft along the way.
The spirit that he produced, while illicit, quickly became known around many parts of Scotland. Smith got a reputation for producing some of the most exciting and delicious whisky in the country and his business started to grow.
A visit from the King
In 1822, King George IV visited Scotland on a state visit. He was an avid whisky drinker and had heard tales of the spirit being produced in the Livet Valley.
You might think that, being the King at the time, George IV would have been more concerned with the illegal whisky distillation taking place in the land that he ruled than he was with drinking it. But that was not the case.
Instead, he was just really keen to try some of this fabled spirit that was being whispered about all over Scotland, and who could blame him?
Licensed, armed and not afraid to shoot
Two years after the King's famous dram (or bottle, no one really knows) in the valley, legislation regarding illegal distillation was changed. George Smith saw in this a great opportunity. He rode to Elgin where he took out a license and became the first legal distiller in the entire parish of Glenlivet.
According to the distillery's website, other illegal distillers in the parish were furious with his actions. They felt that, by becoming an official licensed distillery, he would take their business and more than likely get them in to trouble with the excise men that Smith himself had previously loathed. They felt like he had swapped sides.
They told him that he and his distillery would be burned down (not a very nice image). As a result, he resorted to carrying two Flintlock pistols with him at all times, making abundantly clear that he was not afraid to use them. Thankfully, as far we know, he never had to.
Fame and Notoriety
After becoming an officially licensed distillery, Glenlivet went from strength to strength. Their whisky was starting to become a staple of anyone in the country that was a fan of single malt, and soon even the 'celebs' of the time were getting in on the act.
In 1852, the great Charles Dickens wrote a letter to his friend in London, pleading with him to try the "rare old Glenlivet" (whether his friend did indeed try the whisky is unknown, but it's a cool little story nonetheless).
People everywhere were really starting to get a taste for the amazing spirit being produced at Glenlivet , but sadly George Smith would not get the chance to see his business grow to the powerhouse it would soon become.
He passed in 1871, leaving the distillery to his youngest son, John Gordon Smith.
Some Minor Hiccups
Glenlivet started to blossom into a hugely successful distillery, but their success didn't come without a few hiccups along the way.
Firstly, they had to file a lawsuit in order to protect their name, as copycats were cropping up across the parish, using the Glenlivet name in a bid to capitalise on their success.
After that, they (along with every other distillery in Scotland) had prohibition to deal with.
Through some top-notch management from John's second nephew, Captain Bill Smith Grant, the distillery was one of very few that pulled through relatively unscathed.
They had managed to keep producing some spirit throughout the period (many other distilleries had to close their doors all together), meaning that when prohibition finally ended, they were perfectly poised to provide thirsty Americans with top quality single malt whisky.
By the 1950s The Glenlivet accounted for more than half of all single malt whisky exported to the US.
Glenlivet Today
Today, the distillery is as strong as it has ever been. They are often seen as a benchmark for other Speyside whiskies to be compared against and their name is recognised in all corners of the globe.
New Glenlivet releases excite millions of fans, and old and rare bottles have become something of a commodity, only increasing in value as the years go by.
Their expressions have won countless awards at events up and down the country and beyond and they show no sign of slowing down.
If you want to try a truly premium Speyside whisky, Glenlivet is a great place to start and it's for that reason (along with their rather interesting history) that they are our Distillery of the Month for March.
From the WF Archives
Our favourite Glenlivet whisky that we, at Whisky Foundation, have in stock is their 33 Year Old by Signatory Vintage. This fine whisky is, in our opinion, one of the best independently bottled drams on the market – showcasing perfect balance and a depth of flavour that will take you several drams to dissect.
We featured that expression as our Whisky of the Month for January, so here we're going to take a look at another bottle, just to add a bit of variety.
Today we will recommend: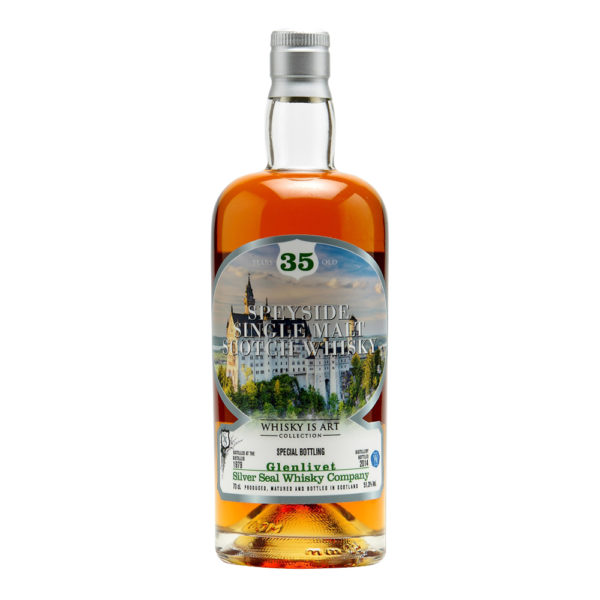 This elegant 35 Year Old was bottled by Italian indie bottler, Silver Seal, and makes up part of their "Whisky is Art" collection. And it is true, this whisky really is a work of art.
It is a single cask single malt of which only 178 bottles were released. It was produced in 1979 and then bottled in 2014 at a cask strength of 51.3%.
It comes with some of the characteristics you would expect from Glenlivet, such as citrus fruits, dark chocolate and a slight nuttiness, but these are backed up by so much more. There is a lot to be explored in this whisky, particularly if you add a drop of water (this will help to open it up).
It's rare, it's unique and it's delicious. A real joy to behold.