Our Distillery of the Month for April is one that sits on Islay's west coast, has a topsy-turvy history and has proven itself to be one of the top innovators in recent whisky history – Bruichladdich.
Early Days
The Bruichladdich distillery was built in 1881 on Loch Indaal in the furthest west part of Islay by the three Harvey brothers; John, William and Robert. The brothers owned two other Glasgow based distilleries at the time but decided the time was right for a little venture on Scotland's most famous whisky producing island.
The distillery that they built was very modern and innovative for the time, featuring tall necked stills that produced a purer spirit than many of the others on the island.
After falling out with his brothers, William ran the distillery on his own until he passed in 1936. Up to this point, Bruichladdich had been moderately successful, but had never really blossomed into the Islay powerhouse that the brothers had imagined.
Over the next 70-some years, Bruichladdich would be sold and resold a great number of times. It passed through the hands of Joe Hobbs, Ross & Coulter Ltd, AB Grant and Invergordon Distillers to name a few.
Whyte & Mackay then bought over Invergordon in 1993 and before long they had decided that the Bruichladdich distillery was "surplus to requirements", and they closed the doors.
A near miss
At this point there were real fears that the distillery would be closed for good, but there was some good fortune on the horizon (for which we're very thankful today!).
Whyte & Mackay was set to be sold, and the new owners would likely never have reopened Bruichladdich, but, thankfully, an eleventh hour bid came in from a group of private investors, led by Mark Reynier, a wine merchant at the time.
Reynier and his group bought Bruichladdich for £6.5m and quickly set about employing Jim McEwan (something of a name in the whisky world) as the director of production.
McEwan had a great deal of experience in the industry, first training at Bowmore (another incredible Islay distillery) as a cooper before going on to become a trainee blender in Glasgow and then returning to work at Bowmore for the next 12 years.
He had built up an incredible knowledge of the whisky making process and was, by this point, a leading industry expert. This expertise was extremely valuable to Bruichladdich at a time when they desperately needed someone to steady the ship and get them back to doing what they do best – making quality whisky.
A taste of success
The 20th century had been a troublesome and worrying time for the distillery but with the new owners in charge (who really seemed to care about the way the Bruichladdich was going) and Jim McEwan at the helm of whisky production, they eventually began to experience a taste of success at the start of the 21st.
Firstly, some small batch whiskies were released, most of which were taken from the old stock that was still maturing in their warehouse. These releases were moderately successful, but their job was simply to keep the distillery afloat while they waited on their new stock maturing.
What followed really put Bruichladdich on the whisky map and ensured that they would be there for some time to come.
The distillery's first step into the limelight came in 2001 when they released the peated Port Charlotte expression. This NAS (non-age statement) whisky was immediately lapped up by fans of peated drams and paved the way for an even bigger release the following year…
The infamous Octomore
By now, everyone that loves a peated whisky knows exactly what Octomore is, but for those of you that don't, we'll give you a quick run-down.
Octomore is yet another peated NAS expression, but it has something that sets it apart from the rest (by the rest, we mean every other whisky in the world) – it has an insanely high peat content, the most out of any whisky anywhere on earth!
Peat levels within whisky are measured using PPM (Phenol Parts per Million). The Octomore's peat content is through the roof, measuring at around 200PPM.
To put this into perspective, the Lagavulin 16 (a renowned heavily peated dram) measures at just 35 PPM and the Laphroaig 10 comes in at somewhere between 5 and 20 PPM, so it's fair to say that they Octormore features a fair whack of peat smoke.
But how would this be received? Well, after some initial concerns, whisky fans everywhere (particularly peated whisky fans) lapped it up like never before.
The Octomore really pushed Bruchladdich to the forefront of the whisky world, it was an innovation like no other. How could it possibly contain so much peat and taste so good? No one really understood, but they loved it nonetheless.
Modern Innovations
The Octomore and Port Charlotte drams were the first real innovations that the company made under the guidance of Jim McEwan, but there were many more to come.
They released the Botanist Gin and it took the world by storm, quickly becoming one of the bestselling craft gins on the market.
In the years that followed, the distillery would win Innovator of the Year four times and Distillery of the Year three times, an absolutely astonishing achievement for a distillery that had faced permanent closure not 10 years earlier.
If that isn't enough to impress you, get this, all whisky production at the Bruichladdich distillery is carried out without the use of computers. That means that every single detail is recorded in the same analogue fashion that the Harvey brothers used all those years ago.
Bruichladdich Today
Today, Bruichladdich is as strong as it has ever been. They eventually managed to release their own flagship 10 Year Old in 2011, titled "The Classic Laddie", and this was surely a very proud moment for everyone involved.
This was followed by some rather sad news the following year when the legendary Jim McEwan decided it was time to hang up his boots and enjoy life as a retired man.
Fortunately for the distillery, they had a ready-made successor. Adam Hannett had started as a tour guide at Bruichladdich but had since worked his way into the warehouse and had been working under McEwan, taking in everything that he said, for some time.
He showed the same passion for whisky and, perhaps more importantly, for innovation. He had huge shoes to fill, but until this point at least, he has been doing a fantastic job of creating new expressions and keeping the distillery firmly where it wants to be.
The fact that this Bruichladdich was almost closed down in the late 1990s and has since gone on to become a world leader in whisky innovation, releasing some truly outstanding drams along the way, makes them our Distillery of the Month for April.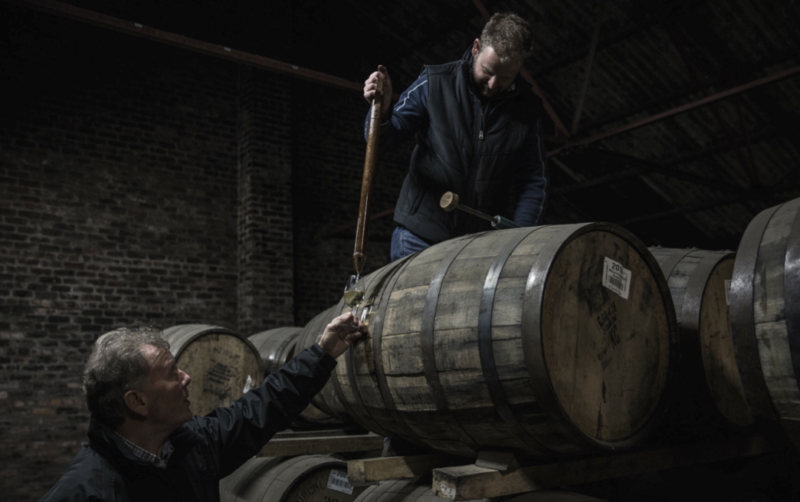 From the WF Archives
If you want to try some whisky produced at the Bruichladdich distillery, we would have to recommend an Octomore. Before you go ahead and say "Mouth fulls of peat? No thanks!" hear us out.
This Octomore, bottled by the Rest & Be Thankful independent bottling company, offers so much more than just gobsmacking peat levels. Don't get us wrong, it's a very peaty dram, but once you get past the initial shock, there is a whole array of notes to be explored.
This particular bottle differs slightly from the rest. It was matured in an ex-Sauternes wine cask, adding a rich, fruity layer that comes to the nose and palette just after the peat smoke. This then makes way for oak and slight hints of vanilla before the peat returns on the finish and lasts for a long time.
Only 300 bottles of this whisky were ever made so, on top of being delicious, it's also very rare!
Credit