A hit song, a children's TV show and fantastic whisky – these may be the things that made the Isle of Mull famous around the world, but to Scots and anyone else that has visited, there is so much more to it than that. White sand beaches, turquoise waters, breath-taking treks and rows of different coloured houses standing out along the waterfront (as seen in the Balamory intro below) are just some of the things to be enjoyed on this undeniably eccentric island.
However you go about enjoying your day on Mull, one thing remains true, there is nothing better to top it off than a dram of that beautiful amber nectar that is Mull whisky, created at the Tobermory Distillery.
The distillery has a very long and interesting history that is punctuated by sporadic closures, reopenings and excellent whisky releases.
It was founded all the way back in 1798 by John Sinclair, a local merchant.
Sinclair had a dreamt of building his own distillery and the Isle of Mull was to be his setting. His plans had been in the making for some years and in 1797 he applied to lease 57 acres of land on which he would build housing and the distillery of his dreams. Much to his dismay, his plans were rejected as whisky distillation had been banned just two years earlier in 1795.
At the time, the British were involved in the War of the First Coalition, when many of the main European powers fought against the French First Republic and their allies. Grain supply was fundamental to the war effort;, it fed the soldiers and the workers back home and kept the country ticking over at a time when resources were low. Unsurprisingly, whisky wasn't as necessary and so distilling was banned and grain was stockpiled. This isn't to say some illegal distillation went on, but that's a story for another day.
Sinclair was disappointed and must have longed for the end of the war when his dream could finally be realised.
Fortunately for him, the British, their allies and those they were fighting against, the war wasn't to last too much longer, finally coming to a head at the end of 1797. The fighting stopped, for the time being, and the ban on whisky production was lifted.
Sinclair reapplied and before long he was able to set about building the Ledaig Distillery (Tobermory today).
The Ledaig Distillery
The Ledaig Distillery began production and ran without significant hitches for over 100 years, which is quite unprecedented when you consider the many issues that other distilleriesy's around the country faced throughout the 19th century. There were no devastating fires, no closures and, in general, things ran smoothly.
The residents of the island lapped up Sinclair's whisky. A mix of local pride in an Isle of Mull product, and the genuine quality of the spirit being produced at the distillery, probably contributed to its popularity.
As was the case with many distilleries, the early 20th century spelt disaster for Mull's only distillery. World War 1 had just finished and The Great Depression was hanging over the United States (the main export market for Scotch). World War 2 was just around the corner and a combination of these factors lead to a massive drop in demand for Scotch.
The Distillers Company had purchased the distillery in 1916 but there tenure was short-lived. The Tobermory (Ledaig) distillery closed its doors in 1930 and it would remain shut for almost half a century.
A series of closures and reopenings
When the distillery finally reopened in 1972, 42 years after its closure, there was a great deal of hope on the Isle of Mull. The locals had gone without their favourite whisky for some years and to many of the younger inhabitants of the island, Mull whisky must have seemed like a fable.
Sadly, the reopening didn't go as smoothly as planned. Production was forced to cease for a month in 1975 when storage space for their spirit ran out. Plans for a bonding warehouse close-by were shelved and money was running low. They closed again in 1978 before briefly reopening between 19'79 and 19'81.
The distillery had been forced into receivership and to many, this seemed like the end. The warehouses were sold off and turned into flats and production stopped all together.
Somehow, the distillery managed to reopen in 1989 and two years later Burns Stewart Distillers, owners of the Deanston Distillery at the time, bought it over for around £800,000.
The Tobermory Distillery
This was the first time in a very long time that the now Tobermory Distillery's fortunes had received any kind of boost.
The single malt category had experienced a boom in the 80s and this presented the new owners with an opportunity that was too good to pass on.
They began producing single malt whisky, a large portion of which would be used in popular blends such as Scottish Leader and Black Bottle, while some unpeated and a small amount of peated malts was to be matured in bourbon and sherry casks at the Deanston Distillery warehouse.
Production was upgraded in 1990 and the today Tobermory is capable of producing one million litres of spirit a year and their single malt releases quickly grew in popularity.
Present Day
The most recent and exciting releases from the Tobermory Distillery have to be the "Ledaig" heavily peated range and the many single cask releases that come out as limited edition distillery or indie bottlings.
This is not to say that their flagship 10 Year Old is not a beautiful whisky; , it certainly is, but as it's their only current official release single malt under the Tobermory name, the single cask and limited bottlings offer so much more variety.
Supply was once again cut back in 2017 when the distillery announced that they would cease production for two years. Thankfully, they're not reliving the problems of old, but just getting an upgrade, the result of which will hopefully be more outstanding releases in the years to come.
While the refurbishments take place, tours will still operate and whisky will still be available, so there's no need to worry about a holiday to the majestic island being ruined.
After a long and tough ride, Tobermory is finally well and truly on the whisky map. Excellent releases, beautiful tours and burgeoning popularity make it our Distillery of the Month for September.
Tobermory Casino Series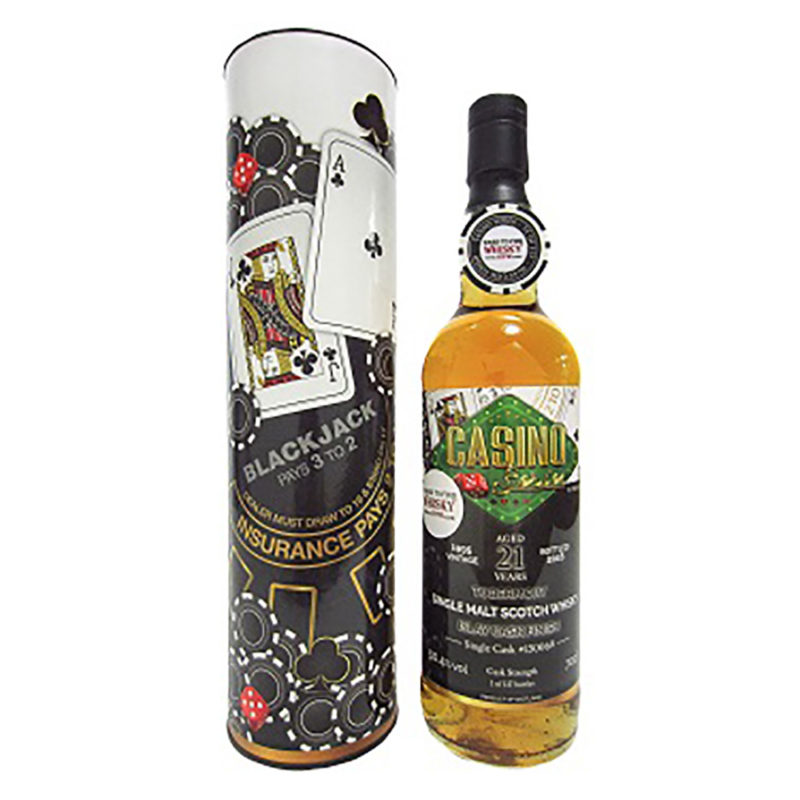 The Tobermory Casino Series is a range of four single cask whiskies release by indie bottler, Hard to Find Whisky. They are all 21 Year Olds and each of the expressions has been finished in a different cask type, resulting in an incredible range of notes in each built on top of that outstanding Tobermory liquid. Each bottle is numbered with a genuine Casino Chip.
Click Here to view the series.