Cask 88 is a well-known cask specialist, broker and independent bottler based in Edinburgh, Scotland. They have a history of trading in some of the finest casks on the market and in recent times they have turned their focus to bottling some of the wonderful whiskies that they come across.
The company started out as a cask broker in Scotland, much like many others in the independent bottling industry.
The business started to grow exponentially when Sales Director, Patrick Costello, packed up his bags and moved to Asia (a huge market for cask brokering), pushed on by his love for whisky. They ended up with so much business in that first year that as many as four new sales directors were hired – a sign of good things to come.
They made contacts and built up relationships with distilleries across Scotland and gained access to warehouses all over the country, allowing them to taste an extraordinary amount of casks and find ones that suited clients very needs.
In this capacity, they quickly became successful – sourcing a great deal of top quality whiskies for companies, collectors, and everyday Joes like you and me across Scotland, Europe, the US and Asia, with China being a particularly prosperous market for them.
Their passion for sourcing and selecting the highest quality casks allowed them to build up something of a reputation as cask and wood specialists and they help many clients through the entire process – from sourcing to maturing to bottling.
One such example is a single cask bottling that they carried out for the Shanghai Peninsula Hotel, voted in the top 10 hotels in the world on several occasions. It's lavish to say the least. In this instance they sourced an elegant Macallan 1991 and helped to mature, bottle and transport the whisky as an exclusive. This operation is just one example of their many successes in this field and it highlights the company's determination to provide their clients with the best casks of old and rare whisky on the market by building strong relationships with the top distilleries in Scotland.
It was this passion for sourcing exquisite liquid that lead them to become an independent bottler. After all, if you have access to such sublime whisky, why not utilise these contacts in a way that benefits both you and fans of "the water of life" around the globe. I mean, who doesn't want their own bottling?
As a Bottler
Cask 88 took their first steps into the world of indie bottling earlier this year when they launched the now globally recognised Scottish Folklore Series with the release of an exquisite Ben Nevis 45 Year Old, a dram that's become a solid favourite with Whisky Foundation followers and whisky aficionados worldwide.
The bottle quickly grabbed the attention of industry folk with its excellent and haunting label design, featuring Cu Sith – a murderous hound that is said to have stalked the Highlands for years, terrifying hill walkers and travellers that stray into its territory.
The design is something special and really stands out among even the most elegant and dashing whiskies on the market, but does the liquid back it up?
Without a shadow of a doubt.
The bottle has already picked up two gold awards at the International Wine and Spirits Competition 2018. The first was in "Highland Single Malt 30-45 Year Old" category, while the second was for the previously mentioned outstanding design.
The awards speak volumes and highlight the elegance, quality and mastery behind this incredible single cask bottling.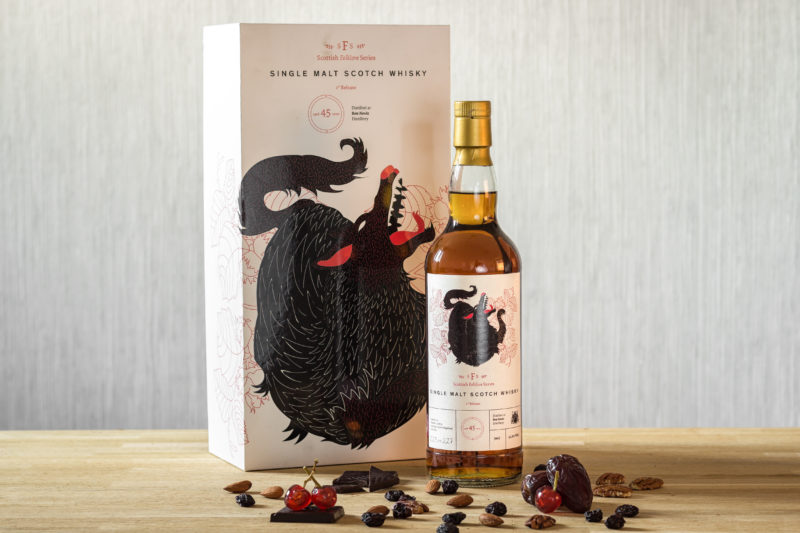 What's to Come for Cask 88
So, with one resounding success already this year, what's next for Cask 88?
The bottler and cask specialist has already stated that the Scottish Folklore Series will feature six different expressions, so the next installment must surely be on the horizon. What distillery this bottle will come from and which Scottish legend it will feature on the label is yet to be revealed, but we all have our fingers crossed that it will be as exciting and delicious as the first in the series.
As if that's not thrilling enough, last week we heard murmurings of an imminent small batch release and we're now in discussions with those lovely folk at Cask 88 with regards to stocking this on Whisky Foundation. However, we've agreed not to give away any details of this just yet, so you'll just have to hang on for another few days. One thing we can tell you is that it promises to be exhilarating.
With new releases around the corner and a medal winner already this year, 2018 will be a year that those at Cask 88 will remember for a lifetime. It was the year they stepped into the world of independent bottling, and going by what we have already discussed, they look like they're here to stay.
To learn more about the Ben Nevis 45 Year Old, click here.
To find out more about Cask 88, click here.