Last week, independent bottler and Cask broker, Cask 88, unveiled two truly inspired releases at the stunning venue of Borthwick Castle in Gorebridge, Scotland.
They announced the second of six bottlings in their excellent Scottish Folklore Series and surprised guests with an elegant and truly premium Glenlivet 50 Year Old that they are offering at a particularly competitive price for a whisky of that age and from that distillery.
The event was lavish, held in the superb castle that was built at the start of the 1400s. Borthwick, like the whiskies that were unveiled, has a rich history, along with an impressive list of former residents that includes Mary Queen of Scots (who famously jumped out of a window there) and Sir Walter Scott, the legendary Scottish author and poet.
Unlike many castles of this age in Scotland, Borthwick is in incredible condition. The interior is plush and comfortable. It's decorated and furnished to look as traditional as possible, and it's quite stunning, but is no doubt a little cosier and more glamorous than it was all those years ago.
The outside walls are in equally good condition and this is a little more surprising. Someone has no doubt invested heavily in keeping them that way and it makes for a beautiful sight. If you have a keen eye, you can find a fascinating piece of history high on the Eastern wall, where a huge cavity is scored in the otherwise unblemished brickwork.
This, I was told, was where none other than Oliver Cromwell, 'Lord Protector' of the Commonwealth of England, Scotland and Ireland, blasted his cannon after The 10th Lord of Borthwick refused to leave his castle as Cromwell had commanded.
Borthwick holds Scottish history, culture and heritage in its foundations and this made it the most outstanding and fitting setting for Cask 88 to reveal their new whiskies.
And so, the stage was set as guests poured through the castle gates for a jovial and action packed evening of whisky, folklore and music.
Stories From The Jacobite Officer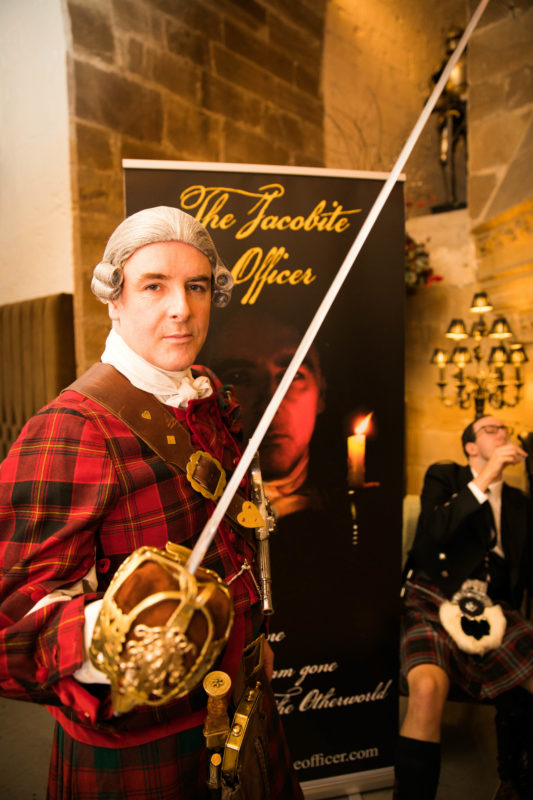 After a brief introduction in the castle's State Room, a beautiful lounge area on the middle floor, guests made their way upstairs to The Garrison, where they were treated to fantastic tales from the Jacobite Officer.
He told tales of Cu Sith (featured on the first edition in the Scottish Folklore Series) and freeing a mythical creature, a selkie, from the Fairy Pools on the Isle of Skye, who then trapped and haunted him. Was it a gift or a curse? Who was this beautiful beast? And how was he to escape?
The sense of tradition and folklore was building and it was a fitting introduction to what was to come next.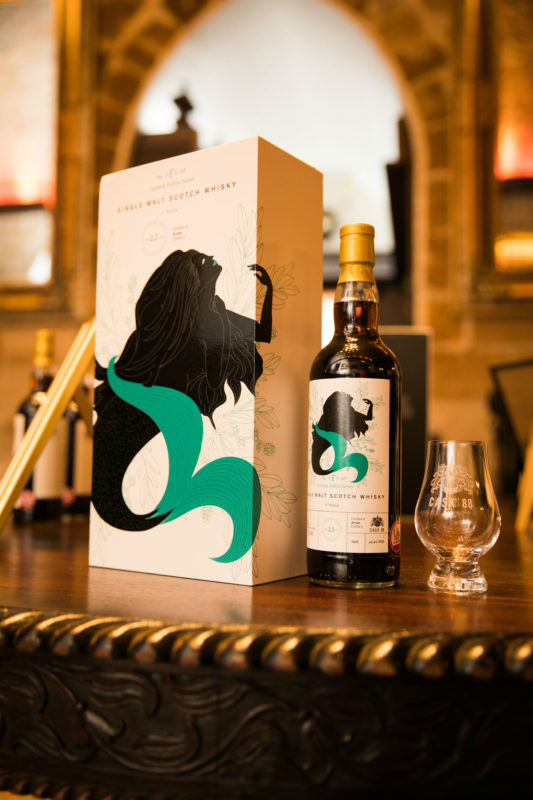 Standing just beneath the castle turrets, guests turned their attention to the far side of the room where a table stood adorned by a case covered in tartan cloth. Cask 88 Director, Patrick Costello, took centre stage to thank the guests for coming before pulling off the tartan to reveal none other than "The Selkie" itself.
Of course, this was not the mythical creature that the Jacobite Officer had spoken of, but instead a representation of one in the form of an incredibly dark, almost jet-black whisky. Those in attendance sucked air through their teeth as they clamoured forward for a picture of the impressive whisky.
Created at the Arran Distillery, and matured for 22 years in a single sherry cask, the whisky was mystical and different from what most of us had seen before.
The label depicted a female selkie, with her seal skin and human head, designed in the most elegant and magical of fashions.
For those that don't know, selkies are capricious creatures that live in the depths of the oceans off of Scotland's island coasts. They come ashore, shedding their seal skin, to woo a lover, before taking them back to the ocean, never to be seen again.
The selkie can be kind in nature but also malevolent, but they themselves are not just predators, but also prey.
If, while they are ashore, their seal skin is stolen, they become trapped and slaves to those that took it from them. They can be forced into marriage and will even be kind and caring mothers to children, but if they manage to get their skin back they will immediately return to the ocean, without a second thought for those they have left behind.
The colour of the liquid fits the mystical story behind it and the notes were equally as impressive. Lots of dark cherries, Coca Cola, rich chocolate and sherried fruits were the most apparent and it was an all-round very impressive creation.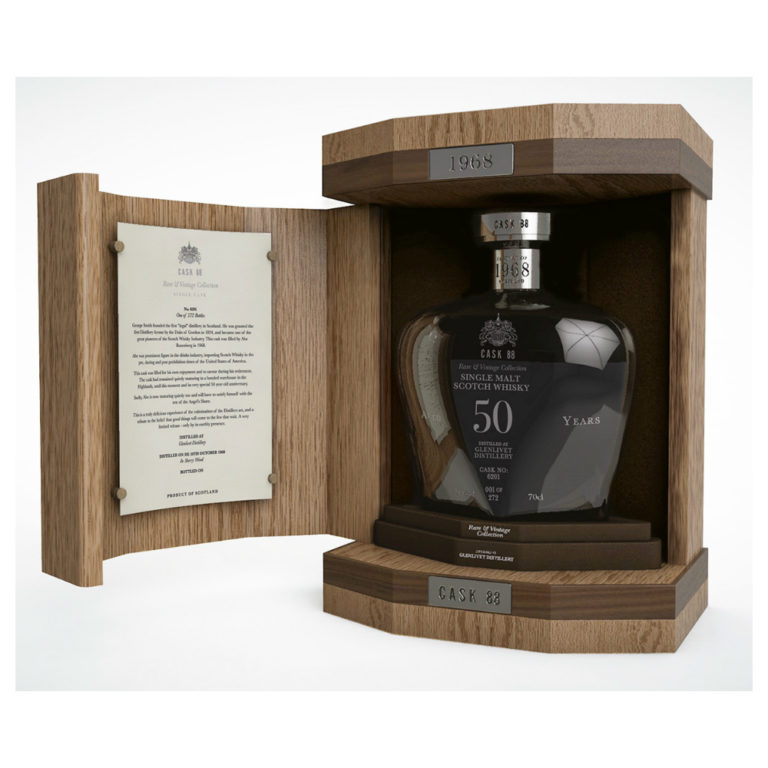 After the tasting, held by Cask 88's Ryan McCafferty in Borthwick's stunning Grand Hall, our attention was turned to a large screen, where we were treated to a rather exciting, but welcome, surprise.
Cask 88 Head of Content, Sam Laing; PR Manager, Miriam Rune; and whisky expert Ryan McCafferty, talked us through "The Next Chapter For Cask 88" – a gorgeous Glenlivet 50 Year Old single malt.
The single cask whisky was "created to honour Abe Rosenberg, a prominent figure in the Scotch whisky industry. The New Yorker (with a taste for single malt way ahead of his time) amassed a huge collection of around 4,000 single casks, filled with some of the best single malt produced in Scotland over the past century."
This Glenlivet 50 is one of those casks and it "exudes quality from the get-go".
While I didn't get a chance to taste this whisky on the night, the video left me with a keen sense of anticipation and I'll be crossing my fingers that I get my hands on a sample shortly, so look out for that blog in the near future.
If you've not already seen it, you can watch the video right here:
Music From A Legend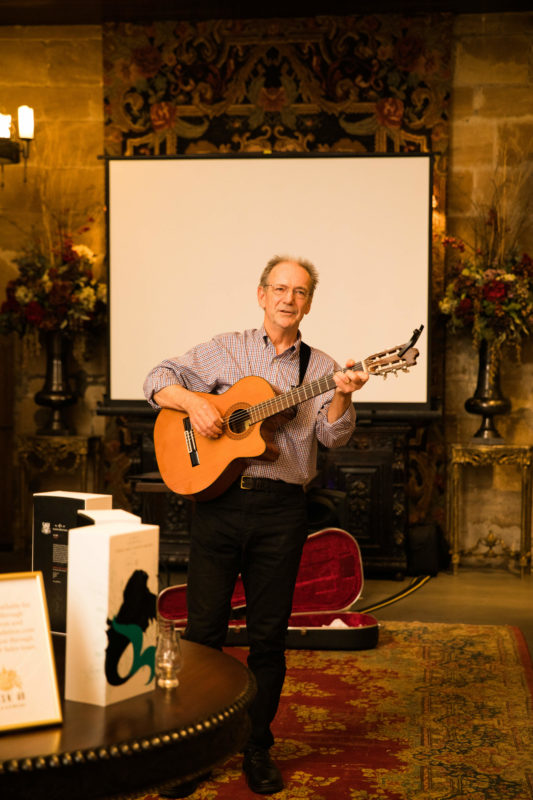 As if attending Borthwick Castle in all its glory, stories of folklore, two fantastic whiskies, chatting with friends and countless drams wasn't enough, the folks at Cask 88 had one more treat in store for us.
Up stepped none other than "The Whisky Baird", Robin Laing, with his guitar to sing us a couple of fantastic songs and top the night off in the best possible way. 'The Arran Dram' and 'Whisky For Breakfast' were sang, we all joined in and then we went home – content with a fantastic night that will be remembered for some time.
Well done Cask 88 on both the whiskies and hosting a wonderful launch event.
To purchase the Selkie Click Here.
For the Glenlivet 50 Click Here.
To read more about the Jacobite Officer, Click Here.
To read more about Borthwick Castle, Click Here.