We're absolutely delighted to bring you this incredible new single malt whisky from Cask 88 that is set to become one of the best whisky releases of 2020. This outstanding Laphroaig 19 Year Old is the third instalment in the bottler's impressive Scottish Folklore Series and looks set to follow in the footsteps of the brilliant Ben Nevis 45 Year Old and Arran 22 Year Old that came before it by delighting palates the world over.
The Cailleach Beira bottling was distilled at Islay's famous Laphroaig distillery and placed into a refill hogshead for 17 years before being re-racked, in October 2017, into a Château Léoville-Las Cases Bordeaux barrique cask. The liquid exhibits a glowing burgundy colour that immediately catches the eye, and the notes inside are equally as stunning. 
The sweet essence of freshly trampled grapes is closely followed by the richness of black cherry jam on wholemeal toast, before burning peat and grated nutmeg make themselves known. The palate follows with dark malt loaf, studded with dried cherries and pecans, which are anchored by a heavy oakiness, honey glazed ham and smoked paprika. The finish brings more peat smoke, after dinner brandy and gentle praline chocolates that hold until your next sip.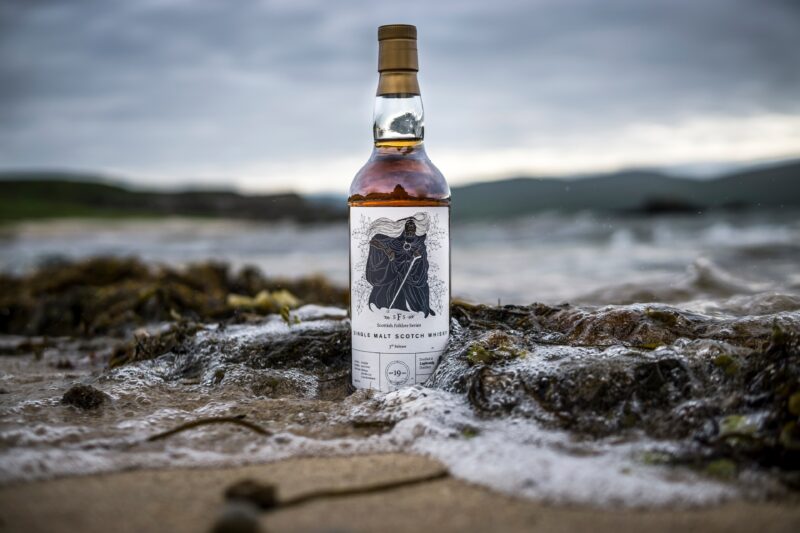 The exquisite design features an elegantly portrayed Cailleach Beira – The Winter Queen and mother of Gods who has the power to raise mountains, carve rocks and fill lochs to the brim. Throughout the summer months (which are few in Scotland), she appears young, fresh and untroubled. As winter approaches, her brow furrows and she displays an often menacing and hardened look across her face. 
In preparation for the cold, dark months ahead, the plaid shawl that she wears over her head must be washed in the only vessel that is big enough – the Corryvreckan whirlpool off the coast of Jura. She then tramples the great plaid, kicking up a roaring, foaming mass of water, before draping her now snowy-white garment over the mountains to dry. These are the snows of the Scottish Winter. As the months progress and her mood sours, she summons ever more cold and bitter storms to scour Scotland, until her subjects begin to pine for the rule of the summer King.
As a single cask whisky, of which only 258 bottles were produced, this mouth-watering Laphroaig 19 Year Old from Cask 88 is sure to sell out fast, much like the other bottles in the series, so act fast if you want to secure yours.