What whisky entertainment is there in LOCKDOWN!? What is a whisky fan to do!? Soon, we will all have experienced a whole year without
Busy, boozy whisky festivals for discoveries both whisky and people shaped.

Tasting evenings attended with friends, where old favourites find a new depth.

Going to our local bar to sample some of our all-time favourites.
Is there any hope for a whisky lover?
Never fear! Here at Whisky Foundation we have made a realisation. We have realised that over these last twelve months we have tried, tested and uncovered some pretty solid methods of keeping ourselves entertained. In fact, we are perhaps even starting to enjoy some of the digital aspects of life now…
You too, dear reader, have probably adjusted to these times quite well by now – even if you haven't realised it. We all deserve a pat on the back and a few celebratory drams.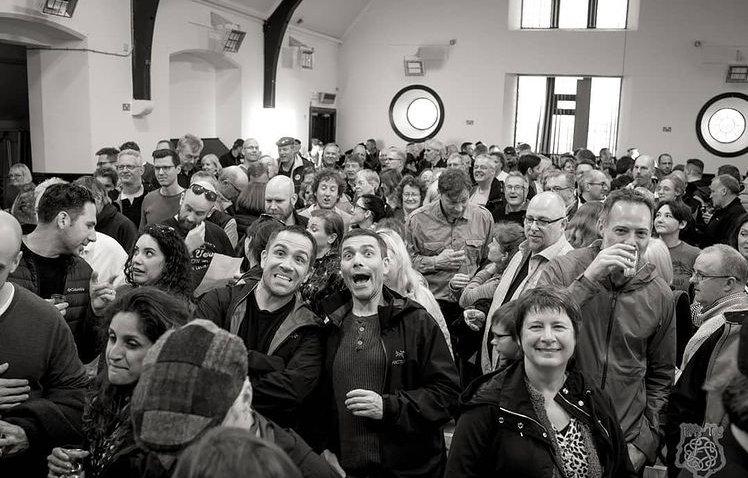 Before we start it is probably worth pointing out that we know that there is so much more going on. And if you are aware of another cool event in the whisky world or have your own top tips for a whisky lover then let us know! We would love to share your ideas with our friends on our mailing list and our socials. What are your best tips to make a whisky fan's lockdown a little more pleasant?
We'll start…
Another Way To Taste Whisky With Friends?
First of all, the often besmirched but surprisingly engaging online tastings and whisky events. We're sure we're not the only people who raise their eyebrows a little at the concept of an online whisky event. The magic of whisky for so many of us is the way that it brings people together, in person. People share stories with whisky. Sometimes that means big, grand tales of Scottish history and sometimes it's this really funny person you've just met and they're regaling you with this ridiculous thing that happened on Islay. Surely you can't recreate that over the cold, dead airwaves?
And yet, having been on many the boozy Zoom call by now, we have discovered that whisky does manage to bring some warmth to the internet. A few minutes conversation and you forget you are at home, you are back in whisky chat land! So here are a few online tastings and events we would recommend.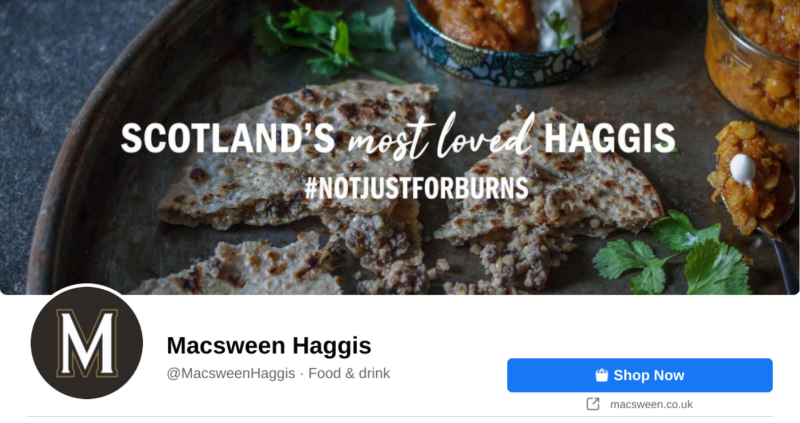 There are a few places organising Online Burns' Nights and if you wanted to keep things local it might be worth checking if your most beloved pub/whisky bar is hosting one. We've seen a few pubs doing so and we fully support it. If you can't find anything that way though then an online Burns Night we find particularly exciting is the Macsween Haggis event. The Scotsman tells us that BenRiach/GlenDronach Master Blender Rachel Barrie will help with hosting as well as comedy actor Karen Dunbar. Bound to be a laugh with a few fellow whisky fans in attendance. The guys are going to release the link on their Facebook on the night (click here).
The Fife Whisky Festival. One of the earlier festivals of the year is the one in the sunny east of the country, the Fife Whisky Festival. And there is a lot to celebrate in Fife for a whisky fan these days as they now have a plentiful supply of impressive distilleries run by real whisky enthusiasts. While it could have been a hit or miss weather-wise, the March festival would still have been in beautiful settings. We must admit that no matter how much we all like to make fun of Fifers, they do have some beautiful country over there. They have now announced that they've turned to the digital for this year's festival and we are excited to see what they come up with. Lindores, Kingsbarns and Luvians have done some really creative, historical and interesting things lately so we expect a well developed online event (click here).
The Best Whisky Podcast
If you are looking for more casual whisky entertainment then there are currently plenty of whisky podcasts to choose from – a quick look at Spotify reveals at least 270 podcasts around the subject of whisky. It can be a little bit of a trawl trying to find the right one for you. Good news, we've done the trawling for you and have an excellent podcast that we would recommend.
This Is My Dram Not in fact an announcement from very possessive whisky owners but actually a pun on 'this is my jam' as the podcast is centred around both whisky and music. Stu and Andy keep things fresh, engaging but streamlined by choosing one whisky to focus on each episode, succinctly discussing the history, science etc. and also providing the listener with a music playlist that goes along with the dram. The chat from these guys is never dry, the warmth between them and the guests is really genuine and the home-made musical interludes quite silly and very funny. The guys' voices come through nice and clearly; everything about this podcast is pure quality. They really know what they are doing (click here).
Other Whisky Creatives
Luckily for us many people who love whisky also tend to have an artistic streak – like the This Is My Dram team being so musically inclined. There are other examples of whisky people being creative that are likely to brighten up your day. It's the little things.
First up we have the iconic Scotch Trooper (click here). You will most likely have seen his work (Star Wars figurines having adventures with giant bottles of whisky) if you have spent any time on the 'gram. Looking back at his Instagram you will find Clones stealing toilet paper, Hans Solo riding a cocktail strainer and one Clone hanging from the unravelling foil of a whisky bottle.
The more disheartening news is that The Scotch Trooper is currently fighting pancreatic cancer. He is raising money for his cancer treatment – so if you have enjoyed his work before it might be an idea to help him out with a little cash injection.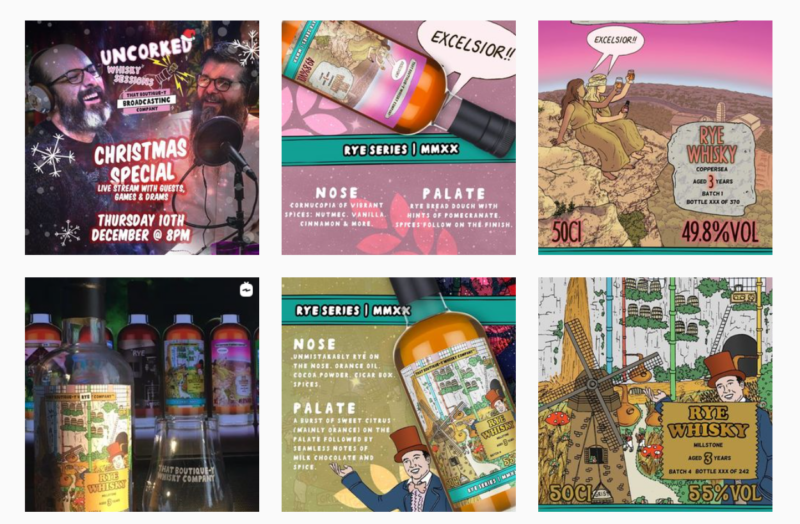 If you love wry jokes and whisky nerdism then have a look at the Boutiquey Whisky world (click here). Each label is a funny little cartoon dedicated to some joke or aspect of the whisky world. You don't have to buy them to enjoy them and you aren't even limited to looking at the products – the team at Boutiquey are always making videos and podcats that are equally as fun and colourful. Even following Dave Worthington on Twitter will brighten up your day – his tweets are the most wholesome and cheery whisky content.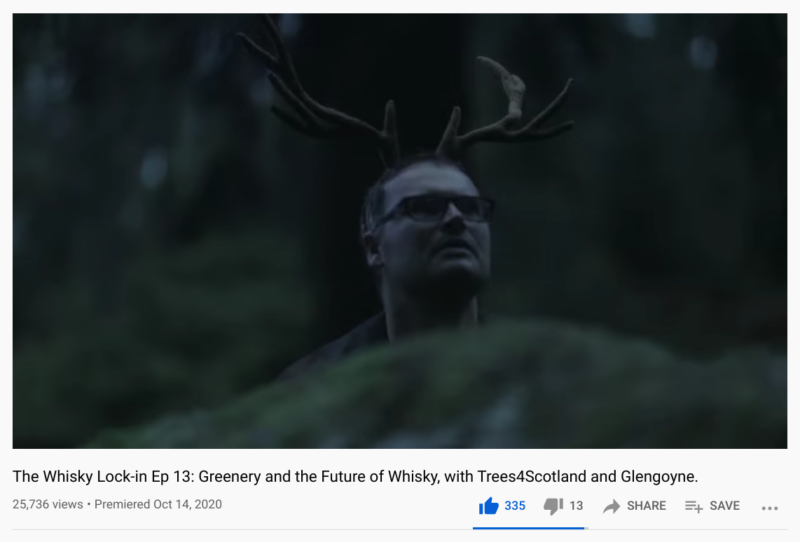 The final piece of whisky entertainment that we would recommend is the Cask 88 Youtube account (click here) – perhaps not what you might expect. Comedy sketches and music pepper interviews with the whisky stars of today. The last few episodes had a higher production value as Sam gets out and about interviewing distillery workers in location and getting some very beautiful shots of the surroundings – as well as being chased by a Nuckelavee and turning into a Were-Dear…
To have a look at one of the trailers they made, click here.