Is there a better day to celebrate all things Scottish than St. Andrew's Day, or a better way to celebrate all things Scottish than with a St Andrew's Day scotch?
We don't think so – but yet, in recent years, St. Andrew's Day seems to have fallen out of favour.
It doesn't have the raucous celebrations of Hogmanay or the quintessentially Scottish activities of Burn's Night, so it has just, ever so slowly, faded from prominence.
As The Guardian eloquently put it:
If Burns Night is a favourite uncle who plies you with sweeties, St Andrew's Day is a duty visit to a maiden aunt who gives you mouldy oatcakes and lectures you about personal hygiene. I picture poor old St Andrew greetin' on Burns shoulder up in heaven, saying, "They've always liked you better. I can be fun too you know. The whole crucifixion thing is all anyone ever remembers."
So, here at Whisky Foundation, we've decided that St Andrew's Day needs a bit of a rebranding – because celebrating the life (and crucifixion) of an Apostle is like so totally 20th Century.
St. Andrew's Day needs to rally around something typically Scottish; something everybody in Scotland can agree on; something that people around the world recognise as a symbol of the greatness – and diversity – of our country.
And there's only one thing for that:
St Andrew's Day scotch.
Imagine this: every year, there's a day dedicated entirely to Scotch.
You buy bottles for your loved ones, you head out to Islay or the Highlands for the day, or you just sit down in the evening and enjoy a nice dram of that St Andrew's Day scotch you've been looking for an excuse to buy.
Hogmanay can keep the handholding and fireworks. Burn's Night can keep the haggis and poetry.
St. Andrew's Day has got Scotch, good friends and quiet appreciation of the Scottish way of life.
It sounds pretty good, right?
(We're willing to be that if the government had put forward this plan – rather than the Bank-Holiday-that-isn't-really-a-Bank Holiday – then St. Andrew's Day would still be the nation's favourite day.)
But in order to celebrate the day the Whisky Foundation way, you're going to need that perfect St. Andrew's Day Scotch.
Luckily, we've got a few suggestions.
St Andrew's Day Scotch – the perfect drams:
 Ardbeg 18 Year (Signatory, 1998) Straight from the Cask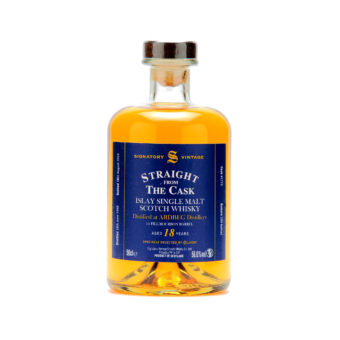 This Signatory bottling is everything that a bold, in-your-face St Andrew's Day scotch should be.
It's a true expression of the Scottish character – well, the character of several of us, at least: confident, outspoken and bold.
 It all starts with a colossal whack of peat on the nose, followed by a citrusy, fruitiness that gradually mellows into herbs and spices.
Then, as you take a sip, it hits you with another whack. Waves of salty peat crash against your palate, leaving behind deep, aromatic flavours of cardamom and curry. (Which are a nice surprise, actually.)
But the finish is what this whisky is all about.
It's long and bold and full-on. The peat is still making itself known, but now it's also introducing vanilla and chocolate notes (from the time it spent in a first-fill bourbon cask for sixteen years) that give way to the peat again.
It's a real treat – and a great expression of the Scottish way of life.
Talisker 25-year-old (Gordon & MacPhail, 1958)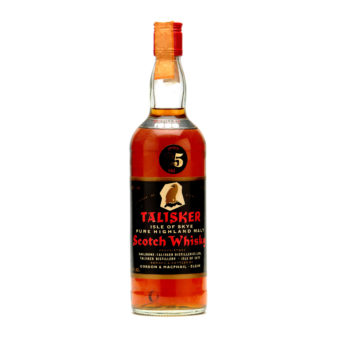 This Talisker is like taking a sip of the Scottish landscape – there's maritime notes, floral hints and a whack of peat.
(Or, in other words, it's an incredible St Andrew's Day scotch.)
On the nose, you get this harmonious fusion of peat and fruits that, in theory, shouldn't work – the two ideas seem discordant.
And yet, as you give it a whiff, you get a hit of an incredibly complex aromas. Smoke and peat dance around herbs, fruits and flowers to give off a smell that is out of this world.
In fact, we'd be happy to just sniff it and then put the cork back in.
(That's obviously a lie, but you know what we mean.)
On the palate, peaty sultanas gradually build into fruits, spices and a syrupy sweetness.
But not all at once, and not in a crass, in-your-face way. They start to slowly fizzle and build into their complexity as your savour the taste.
And then, like any good Island malt, it has a long, smoky finish.
It's good. It's very good.
Very, very good.
Then again, it's Talisker and Gordon and MacPhail. Did you really expect anything other than perfection?
We've had two celebrations of bold Scottish character, but this Rosebank is a little more complex.
Whisky-writer-extraordinaire Jim Murray once described Rosebank bottlings as 'the finest example of a Lowland malt' – so the bar is set pretty high.
Luckily, it doesn't disappoint.
Starting with coal smoke and lemon marmalade on the nose, this whisky builds into a palimpsest of bitter oranges, peanuts, fruits and tar.
Like we said, it's a complex and divisive whisky, and it definitely won't be for everyone – but if you like whiskies that are full of character, complexities and flavour, then this is an ideal St Andrew's Day scotch.
This may well be – and we don't use this word lightly – a legendary whisky. (And a perfect celebration of the Lowlands.)
What's your St Andrew's Day dram going to be this year? Let us know on social media – we love to hear from you!