So with Christmas just around the corner we thought we'd add some brand new aged rums to our store to provide our lovely readers with a bit of choice if they fancy trying something other than an indie whisky this festive season. We've not just picked any old rum though, these four beauties are the Crème de la Crème of the rum world and all part of the famous Rum Nation series. So without further ado, here they are.
Diamond Rum Nation (2005-2017)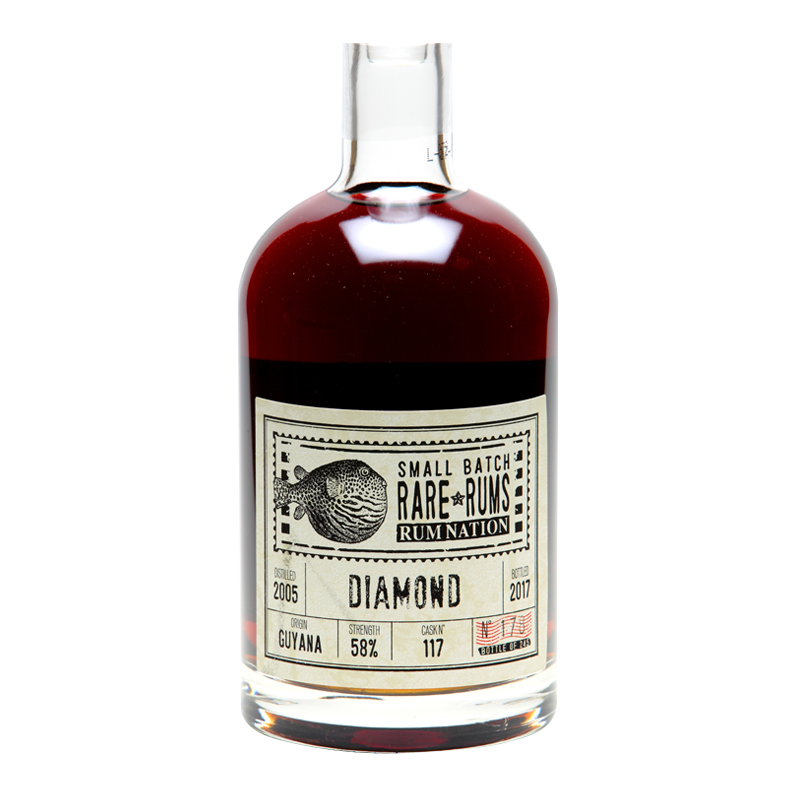 We heard so many good things about this bottle that we had to get our hands on it. Heavier than most, it was created at the Diamond distillery in 2005 in Guyana, West Indies. It was then aged for around 12 years in fresh oak casks that have imparted rich oily notes on the spirit.
It starts off with intense aromas of rich brown sugar and treacle that will warm your cockles before you've even taken a sip. This is the kind of stuff that could easily be mistaken for a Christmas pudding (if it was spongy, round and you have no idea what Christmas pudding is).
If you think the nose is enough to keep you cosy, wait until it rests on your tongue. It's thick and robust and is somewhat reminiscent of a dark stout, though the caramely and raisin flavours reassure you that this is definitely a rum, and a cracker at that (a Christmas cracker….whey hey!).
It's all finished off with a huge amount of spice and it's here that you feel the full brunt of the 58% ABV at which it was bottled. Don't get me wrong, you don't directly taste alcohol, but you are undoubtedly aware that it is there.
Caroni Sherry Finish Rum Nation (1997-2017)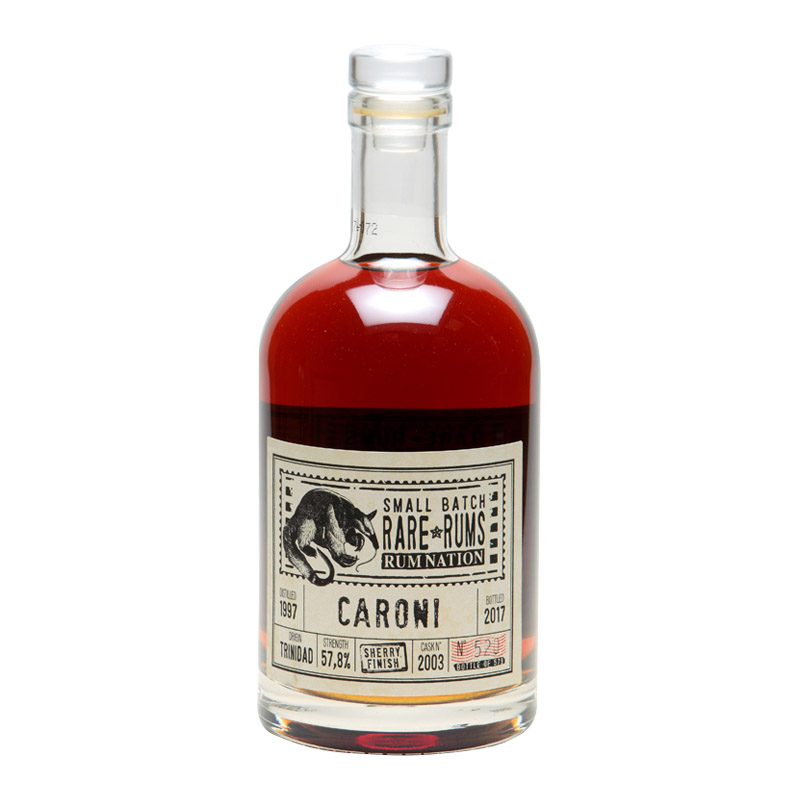 Now this is a rum with an interesting back story, and you know how much we love interesting back stories at Whisky Foundation!
The Caroni distillery, founded in 1918 in Trinidad, operated for almost a century before its closure in 2002. At this point it was thought that getting hold of Caroni rum was nigh on impossible without paying exorbitant fees for old bottles.
But then Luca Gargano, an Italian raconteur, visited the island in 2004 and what he found would delight rum lovers around the globe – a warehouse full of barrels. Full barrels. He quickly set about buying the casks, bottling them and making them available to folks like me and you. What a guy.
This beauty is much lighter than the Diamond listed above, and indeed lighter than most Caroni rums too, but it still has a depth of flavour that is unparalleled.
The nose has elements of oak and vanilla, as you would expect from an oak cask aged rum, but these are followed by notes of rich fruit on the palate that complement the nose incredibly well. These must be imparted by the Sherry cask finish.
This 10 Year Old really comes into its own on the finish, with a lingering spice that has hints of dates, toffee and a little more vanilla.
If you're looking to make a rather expensive egg-nog, this is the rum to use.
Savanna Sherry Finish Rum Nation (2007-2017)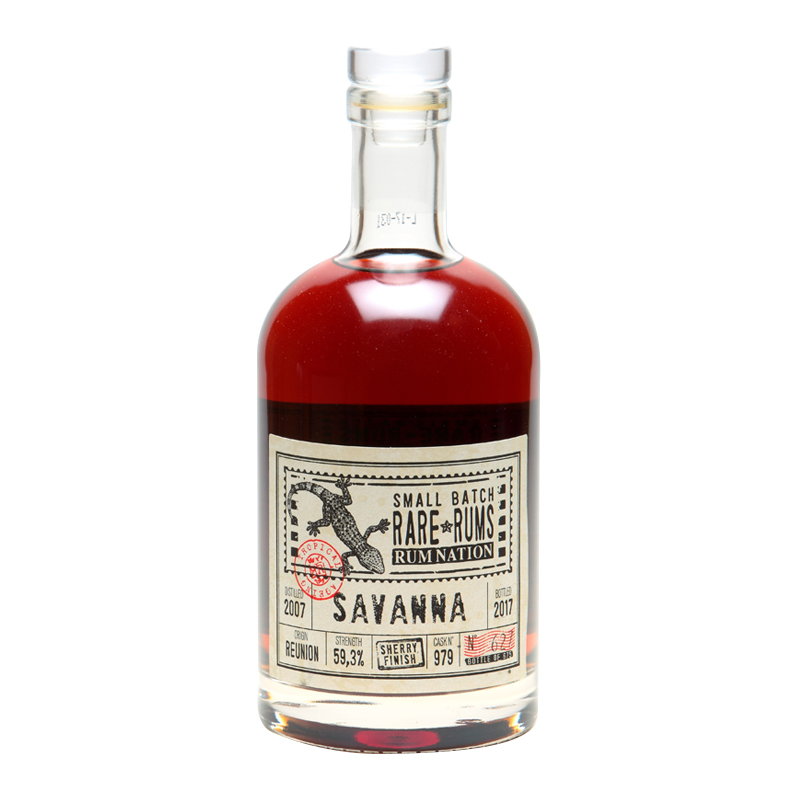 This one comes from Jamaica, a land where rum is king, so we expected good things from this, and we weren't disappointed.
It comes in a stylish bottle and is slightly darker in colour than the Caroni. On top of that it's made with "some of the finest sugarcane anywhere in the world". A bold claim but not one that we are about to dispute.
The nose is typical of a spirit finished in a Sherry cask, with notes of dark chocolate, raisins and coffee.
The palate brings a sweetness that really shows itself when given a few moments to rest on the tongue. Sweet dates and caramel are the most prevalent, while subtle hints of fudge linger in the background.
The finish comes through with a bit of peppery spice and the Sherry makes itself known once again with leathery hints and a surprise kick of mulled wine that tops it off perfectly.
This has to be one of the most well-rounded rums we've ever come across and we are in no doubt that our readers (and their loved ones) will find this to be a real treat.
Jamaica 30 Year Old Rum Nation (1986-2016)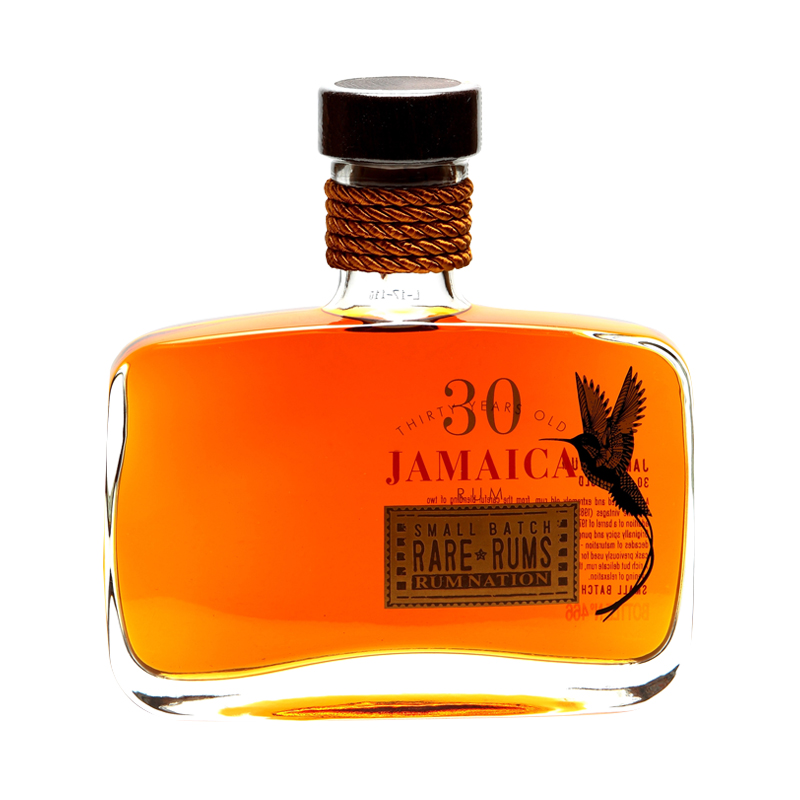 We'll finish off with something that's just a little bit extra special. This Jamaica rum was distilled all the way back in 1986 (that's before I was even born) and then carefully blended before being matured for 30 whole years. It's not often you manage to find a rum of this age and quality but we've sourced this beauty just for our fans around the world (no need to say thanks, we do it for the pleasure).
It starts off clean and subtle on the nose with hints of banana (not sure you'll have heard that one before), oak and fresh sugar cane. At this stage you might not feel like you have got your money's worth, but be patient.
The palate is where this bad boy really comes to life. It has warming notes of vanilla and cinnamon that gradually grow in strength before a slight hint of black pepper just before you swallow.
The finish is just incredible. Oak combines with molasses, more sugar cane and dry wood and this lingers longer than me at a tasting event, allowing you to sap every last droplet of flavour from this fine rum. When you've finished you'll be left thinking:
Overall all, it's a real topper, and one that you'll remember for the rest of your rum drinking days. On top of all that it comes in one of the most elegant bottles we've ever laid eyes on…just look at that thing!