This week we're excited to welcome some excellent new arrivals into our store from one of the world's best indie bottlers, Wilson & Morgan. The bottler focuses on delivering premium whiskies that deliver on the nose, palate and finish and leave a lasting impression on the drinker. They have picked up a number of awards for their excellent work along the way. 
A Little Bit Of History
Founded in Italy in 1992, Wilson & Morgan is a family run business owned and operated by Fabio Rossi. Rossi's grandfather, Guiseppe, was a wine and olive oil merchant from Venice who moved to the picturesque town of Treviso in the 1920s. He passed his business down to his son, Mario, after World War 2, who expanded the business and experienced great success. 
During the 1960s, Mario Rossi made the bold, but ultimately clever, decision to begin importing blended scotch whisky. At the time, single malt was in its infancy and blended malts were all the rage. 
By 1970, Mario's customers were developing rather sophisticated palates and they started to demand more, so premium blended whiskies, the type that Italy had never seen, were brought in. Customers lapped them up and Mario's business blossomed.
Much like his father before him, Mario saw great importance in maintaining a family run business and so he involved his sons, Walter and Fabio, from a young age, teaching them all that he knew along the way. 
By the 1980s, single malt was growing in popularity and the Rossi's were wise enough to predict what was going to happen next. They began importing some of the finest casks of whisky from distilleries all over Scotland and bottling them independently. Sure enough, as the '80s progressed, Italy and the rest of the world got a taste for single malt and the market briefly exploded. 
By 1992, Fabio had taken over his father's business and it was then that he created Wilson & Morgan and began bottling and selling single malts under that brand name. Since then, they have gone on to become one of the most recognised and respected independent bottlers in the world today.
Wilson & Morgan On Whisky Foundation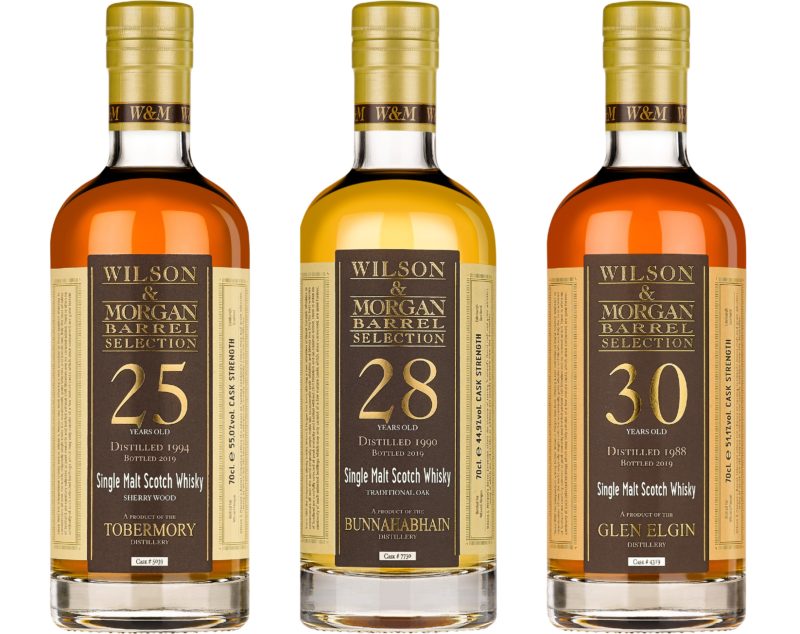 Over the next few months we will gradually be introducing you to the Wilson & Morgan range. Fabio and his team have a fantastic wealth of knowledge and experience and an incredible ability to select only the best casks of single malt for bottling. 
They taste thousands of different casks at distilleries all across Scotland before deciding on the ones that are right for their range, and that results in truly special whisky releases. 
This week, we're kicking things off with three superb single cask single malts. These premium whiskies have been aged for 25, 28 and 30 years respectively and bring a plethora of delightful aromas and flavours for you to delve into and explore. 
Not only do these premium single malts deliver a tasting experience that you'll remember for a lifetime, but they also look the part, with each adorning elegant black and gold labels and coming housed inside a wooden box that can double as a display case. 
Let's take a look at them.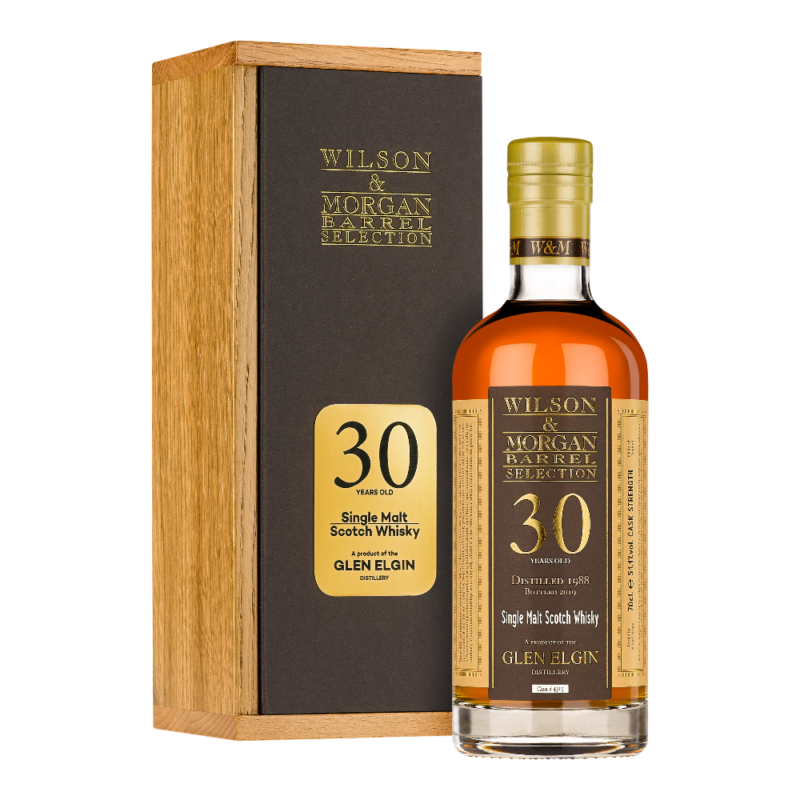 Distilled at Speyside's brilliant Glen Elgin distillery in 1998, this one was then matured in a second fill cask for 30 years before bottling. The ageing period has created the perfect equilibrium between the delicate and flowery notes of this Speyside malt, and
the intense aromas of tropical fruits imparted by the oak. 
Citrus fruits, mango and hints of grapefruit are apparent on the nose before the palate brings chamomile, honey and beeswax. It's an old, ripe and rich single malt that delivers a robust, oily mouthfeel and a fantastic intensity of flavour. The finish is lightly spicy, with pepper and mustard, before a spicy tannic rush.
A fantastic, expertly crafted Glen Elgin that picked up a Gold Medal at the Milano Whisky Festival 2019 and is limited to just 197 bottles.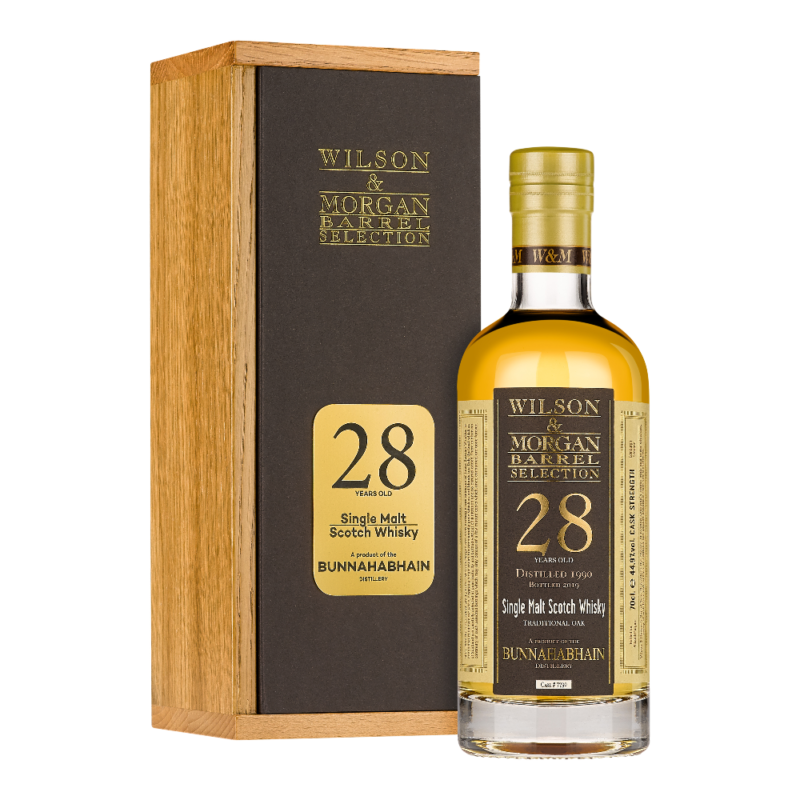 Distilled at Islay's Bunnahabhain distillery in 1990 and matured in a traditional oak barrel for 28 years, this unpeated Islay single malt is simply outstanding in every way.
It's delicate, honeyed, fragrant and flowery in its aroma. The angels have taken away the burn, and left a whisky with a robust but silky body. It's like liquid gold, with mineral and waxy notes, sweet malty creaminess, polite fruitiness, and no tannic harshness – the proof that long and slow ageing in second fill bourbon casks is the best way to let the distillate speak for itself, simply mellowed by the years. 
A stunning, honest and pure expression that comes in at 44.9%, with only 235 bottles produced.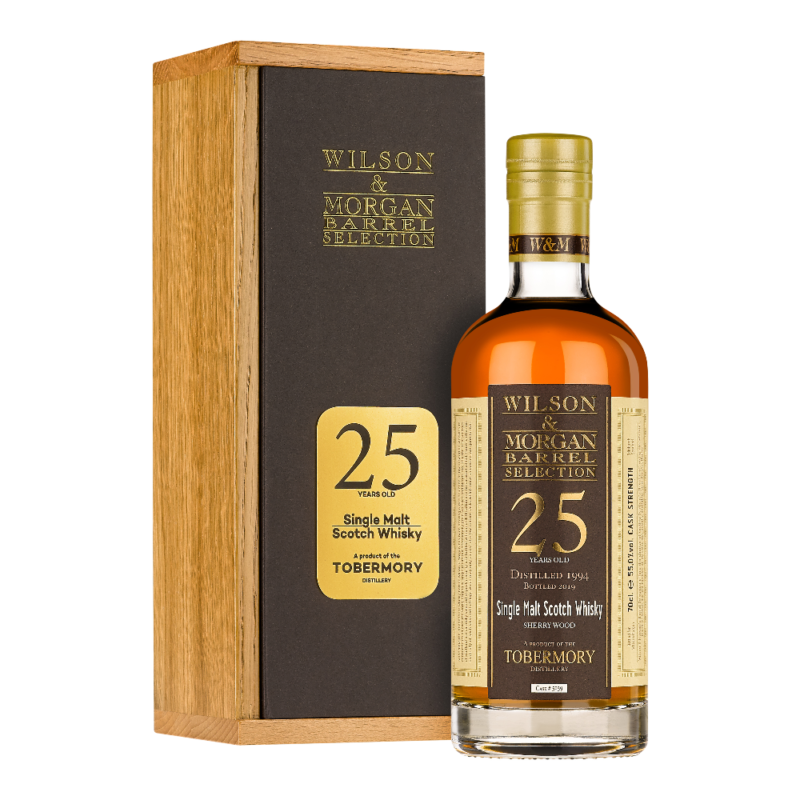 Distilled at the Isle of Mull's Tobermory distillery in 1994, this brilliant single malt was then matured in a second-fill sherry cask. It's a robust and bold spirit that showcases the good interplay of this fine island malt with the flavours of second fill sherry casks. 
Tobermory whisky is typically oily in character and its earthy, vegetal flavours are unmistakable. Liquorice, notes of maritime influence, and then a winey fruitiness from the sherry cask are the stars of the show. It's not loud and tannic, like many sherried whiskies you may have tasted before, but rather, the cask influence enhances the malt with notes of sultana raisins, a lively hint of peachy sourness, and candied orange peel. 
It's a refined and complex expression of just 507 bottles, but not one for the faint-hearted, simply because Tobermory will always be a strong-hearted malt.
Explore Wilson & Morgan
We're delighted to be able to bring you this fine selection of single malts from one of the world's best indie bottlers, we hope you delve in and explore them in all of their beauty. Keep your eyes peeled for more in the coming weeks and months.