Today we're taking an in-depth look at the Whisky Foundation exclusive Springbank 24 Year Old by The Maltman. This beautiful single malt is one that is close to our hearts, as the first ever bottle to feature on our whisky stock market, The Reserve.
If you've not yet hear of The Reserve, where have you been lately? This post will get you up to speed.
We spent a great deal of time searching for the show-stopping dram with which to launch The Reserve, and we think we've nailed it. The result is a whisky that really epitomises the Whisky Foundation brand, as Springbank is such a unique distillery that stands apart with its traditional methods of production, not to mention the delicious liquid itself.
The Distillery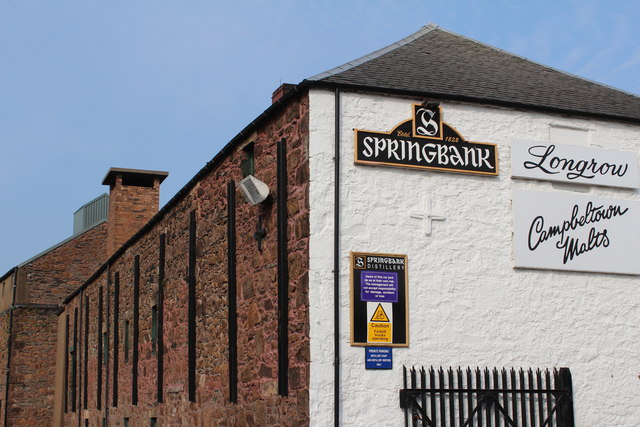 Craft is such a buzzword these days, and usually we treat it with a bit of suspicion. But if there was ever a whisky that deserved the name, this is it.
And how do we justify that bold claim?
Well, Springbank are the only remaining distillery in Scotland to carry out every step of the whisky making process themselves, from malting the barley to bottling the spirit (although they are also open to indie bottlers releasing their products, as is the case with this bottle).
They produce both peated and unpeated whisky, all of which is made with barley that has been malted on their close to ancient malting floor.
Today, Springbank releases malt whisky under three different names – Springbank, Hazelburn and Longrow. Each of these has their own unique house-style and this allows the distillery to produce a wide range of whiskies, all of which are generally well received, but none more so than those released under the Springbank name.
As one of only two remaining family run distilleries in Scotland, Springbank has to be seen as one of the most traditional that the country has to offer. It is owned by J & A Mitchell and Company, who also own Scotland's oldest indie bottler, Cadenheads, and they run Springbank as a tight, close-knit and above all else, traditional operation.
The Region
The Springbank distillery is a family run operation in Campbeltown, on the Kintyre Peninsula, in the West of Scotland. It is world renowned for producing some of the finest single malts available on the market and running a rather traditional operation compared to other distilleries across the country.
Campbeltown was once overflowing with whisky distilleries (at one time it hosted over 30), and was the self-proclaimed 'whisky capital of the world', but throughout the 20th century most of these were forced out of business and, as a result, closed their doors.
This was partly due to peoples' changing taste in whisky at the time (going from heavier malts to much lighter ones) and partly down to the opening of a direct rail line from the Scottish Highlands to the Lowlands which gave Lowlanders access to a much greater variety of whisky. (Even though this rail line actually opened in the 19th century, the effects were still being felt in the early/mid 20th century).
Today, only three distilleries remain in Campbeltown – Glen Scotia, Glengyle and of course, Springbank.
The Whisky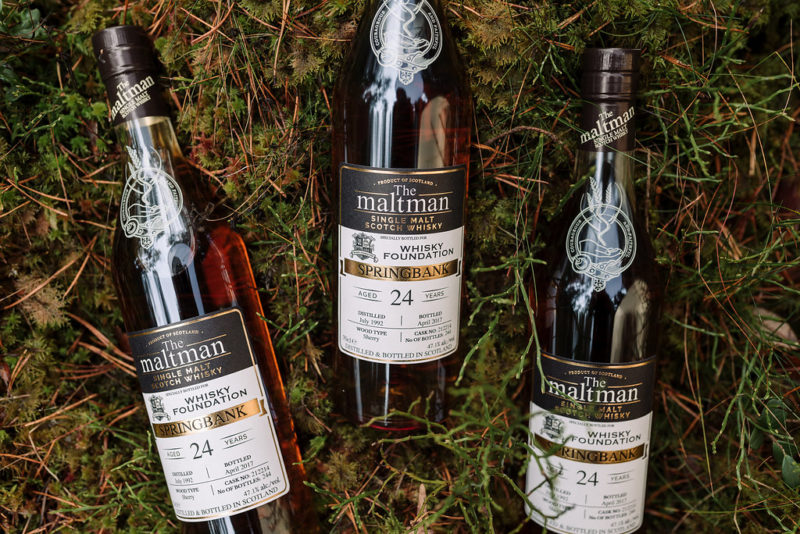 So on to the whisky.
This Springbank 24 Year Old has been bottled by The Maltman independent bottler. If you have been keeping up with our blog you will have read all about them in our recent look at Meadowside Blending (the owner of The Maltman name).
The Maltman (another family run operation) are well known for having particularly high standards. Donald and Andrew Hart (the father and son behind the indie bottler) have a wealth of experience in the industry and they are always heavily involved in the selection of casks to be released under The Maltman.
If a cask doesn't meet their lofty standards, it won't be purchased and bottled.
This particular whisky is an absolute beauty.
Tasting notes
It was matured in an ex-Sherry butt that has imparted hints of brown sugar, coffee and candied orange peel on the nose. These notes are gentle but very much apparent and they offer a nice flavour of what's to come.
The palate follows with subtle notes of winter fruits backed up by dark chocolate, Christmas cake and a hint of black pepper that lingers. These bounce off of the hints of coffee and orange peel perfectly, offering a fantastic depth of flavour that just keeps coming.
The finish tops it all off with a beautiful kick of cinnamon, some more orange peel and a little smoke that comes through at the end, but lingers for some time.
The Reserve
As you may well know, this bottle is a Whisky Foundation exclusive and there were only 244 bottles available to be sold (far fewer now). It is also the first bottle to feature on our innovative Whisky Foundation Reserve, adding to its uniqueness.
Many of you (particularly our loyal readers) will have heard all about this service over the past few months, but for those that haven't, we'll give you a quick run-down.
The Reserve is our innovative whisky stock market, where the price of bottles is controlled by demand.
If a purchase is made, the price rises, but for every second that a purchase is not made, it falls.
The idea behind this system was to give our customers the opportunity to get their hands on some really top quality whisky at a very reasonable price. If you keep an eye on the price, and time your purchase just right, you could walk away with a bargain. If you don't, someone else will.
We're always looking at ways to improve The Reserve and our latest upgrade involves the introduction of a notification service. Now you can enter a price that you would be happy to pay for the bottle, and when it reaches that level, you'll get an email.
To sign up for notification, click here:
To view the current price on The Reserve click here:
We look forward to introducing more bottles to The Reserve in the coming months and if you have any feedback or ideas for the service please get in touch via email or social media, we love hearing from the community.