This week, fast-rising independent bottler and cask broker, Cask 88, has announced the release of the third of six bottlings in their popular Scottish Folklore Series, and just like the two that came before it, it's a joy to behold.
The series began back in May 2018 with the launch of the now multi-award-winning Ben Nevis 45 Year Old. This exquisite bottling was based around the legend of "Cu Sith", a murderous hound who stalks the Highlands, terrifying travellers, hill-walkers and explorers in the process. 
The whisky was outstanding, while the box and label design grabbed the attention of everyone who laid eyes on it. The Ben Nevis won a Gold award in the "Highland Single Malt 30 – 45 Years"  and the "Design & Media Awards" categories, at the International Wine & Spirits Competition 2018, before going on to take another Gold in the 2018 Independent Bottlers Challenge
This was followed in style by last year's Arran 22 Year Old. For that one, Cask 88 chose to feature "The Selkie" – a capricious creature who dwells deep in the sea off the coast of Scotland's islands. The liquid in this one was a distinct, almost Coca-Cola like, black colour that was unlike anything we had seen before, while the design was once again an eye-catching, modern take on a character of Scottish folklore. Much like the Ben Nevis, the Arran 22 didn't take long to win an award, picking up a Gold medal in the "Ultra Premium" category at The Spirits Business' Scotch Whisky Masters 2019.
Now, the time has come for the long-awaited third release, so without further ado, let's take a look.
Scottish Folklore Series Volume 3 – Cailleach Beira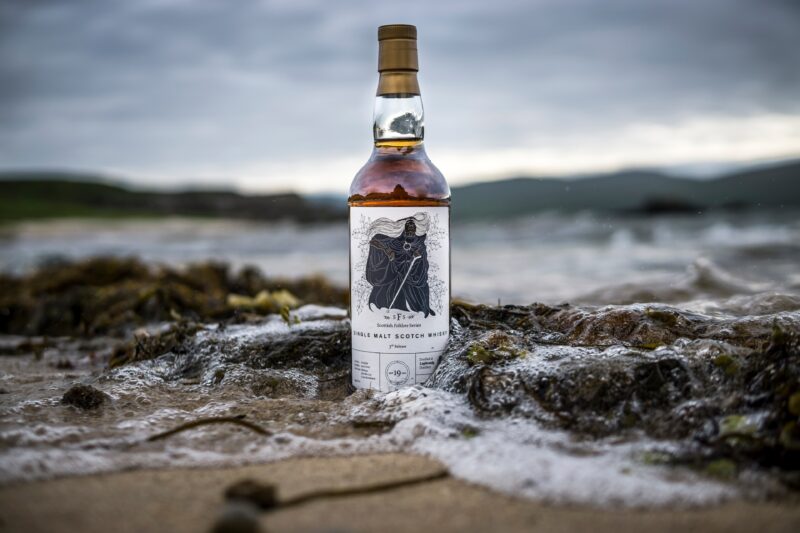 Launched last night on Cask 88's hit Youtube show, The Whisky Lock-In; Volume 3 is everything we had hoped for and more. 
Distilled at Islay's famous Laphroaig distillery in 2001, the spirit was placed in a refill hogshead for 17 years before being re-racked, in October 2017, into a Château Léoville-Las Cases Bordeaux barrique cask. This unique finishing period has had a profound effect on the liquid, which exhibits a glowing burgundy colour that immediately grabs your attention, and holds a range of delectable notes inside to match. 
The sweet essence of freshly trampled grapes is closely followed by the richness of black cherry jam on wholemeal toast, before burning peat and grated nutmeg make themselves known. The palate follows with dark malt loaf, studded with dried cherries and pecans, which are anchored by a heavy oakiness, honey glazed ham and smoked paprika. The finish brings more peat smoke, after dinner brandy and gentle praline chocolates that hold until your next sip.
It's a rich, well-balanced and moreish whisky that, once opened, is unlikely to last long, as each dram leaves you longing for another. 
This year's striking design is based on the mythical Cailleach Beira – "The Winter Queen and mother of Gods who has the power to raise mountains, carve valleys and fill lochs to the brim. Throughout the summer months (which are few in Scotland), she appears young, fresh and untroubled. As winter approaches, her brow furrows and she displays an often menacing and hardened look across her face. 
In preparation for the cold, dark months ahead, the plaid shawl that she wears over her head must be washed in the only vessel that is big enough – the Corryvreckan whirlpool off the coast of Jura. She then tramples across the great plaid, kicking up a roaring mass of water, before draping her now snowy garment over the mountains to dry. These are the snows of the Scottish Winter. As the months progress and her mood sours, she summons ever more cold and bitter storms to scour Scotland, until her subjects begin to pine for the rule of the summer King."
Those working at Cask 88 seem to have developed a talent for selecting both exquisite casks and memorable tales of lore for this brilliant series and they have managed it yet again with Volume 3. From the glowing, complex and luxurious whisky, to the magnificent design and engrossing tale of the Cailleach Beira, this release hits the mark set by previous bottlings in every way.
As a single cask whisky, of which only 258 bottles were produced, this mouth-watering Laphroaig 19 Year Old from Cask 88 is sure to sell out fast. We're delighted to be able to offer this brilliant piece of whisky craftsmanship to our loyal fanbase today, so grab a bottle while you can to add not just a great whisky, but also a piece of Scottish history, to your collection. 
Tasting notes from Caroline Dewar, whisky expert, legend, pioneer of whisky tasting notes and developer of the Friends of Laphroaig programme.

Appearance: Rich glowing amber with a pink tinge at the edges and orange highlights, rather like an orange wine (very trendy right now). Tears are very slow and sticky, clinging to the glass like fruit syrup. Quite viscous when water is added.

Nose: Smoky and rich but it doesn't slap you in the face. This is 19 years old, after all and some of the harder edges have mellowed out, tempered by salt sea air and wood char. I spent a while nosing this whisky. There are definite notes of dried stone fruits plus sultanas/raisins and darker berries – a waft of blackcurrant sauce. Some oak and creamy vanilla with walnut notes and spices both sweet and savoury – ginger and mace for me. Juicy yet earthy and enticing. Cedar wood boxes (not surprising given its finish in a top class red Bordeaux cask, muted iodine and overall, a note of richly roasted barley.

With water, more rich barley and the smoke is less overt but deeper and richer too; also more fruit, ready salted crisps and a herbaceous touch. Very mellow and, as with many Islays, a slightly sweaty wool sock. That's not a bad thing!

Palate: Immediately drying and tongue-tingling. Smoky with rich, toasted – but sweet – cereal notes, charred oak, a little tar and some salt or brine. Lightly charred food cooked in a bonfire or barbecue; smoky bacon and fresh walnut. It's fruitier on the nose than on the palate and oh, so sippable. Definitely a whisky to try shortly after pouring then keep coming back to it every 15 minutes or so for an hour or two.

Finish: Long, smoky, richly toasted barley and oak char persisting – bonfire smoke catching the throat. A touch of walnut.