Complex & Intriguing Single Malts
Experience the newest collection from Cask 88 that is once again raising the bar. The "Eighty Eight Series" is an innovative limited edition set that allows enthusiasts to experience the impact of cask size on the maturation process. Premium single malt whisky from four of Scotland's leading distilleries has been aged in "Quarter Casks" which hold just a fraction of the
volume of a traditional cask. The result is a series of expressions that mature more quickly delivering powerful, complex and highly intriguing flavour profiles. Just 88 sets have been produced, making each of these bottles one of the most rare releases of the year. Don't miss out, reserve a bottle or complete set today.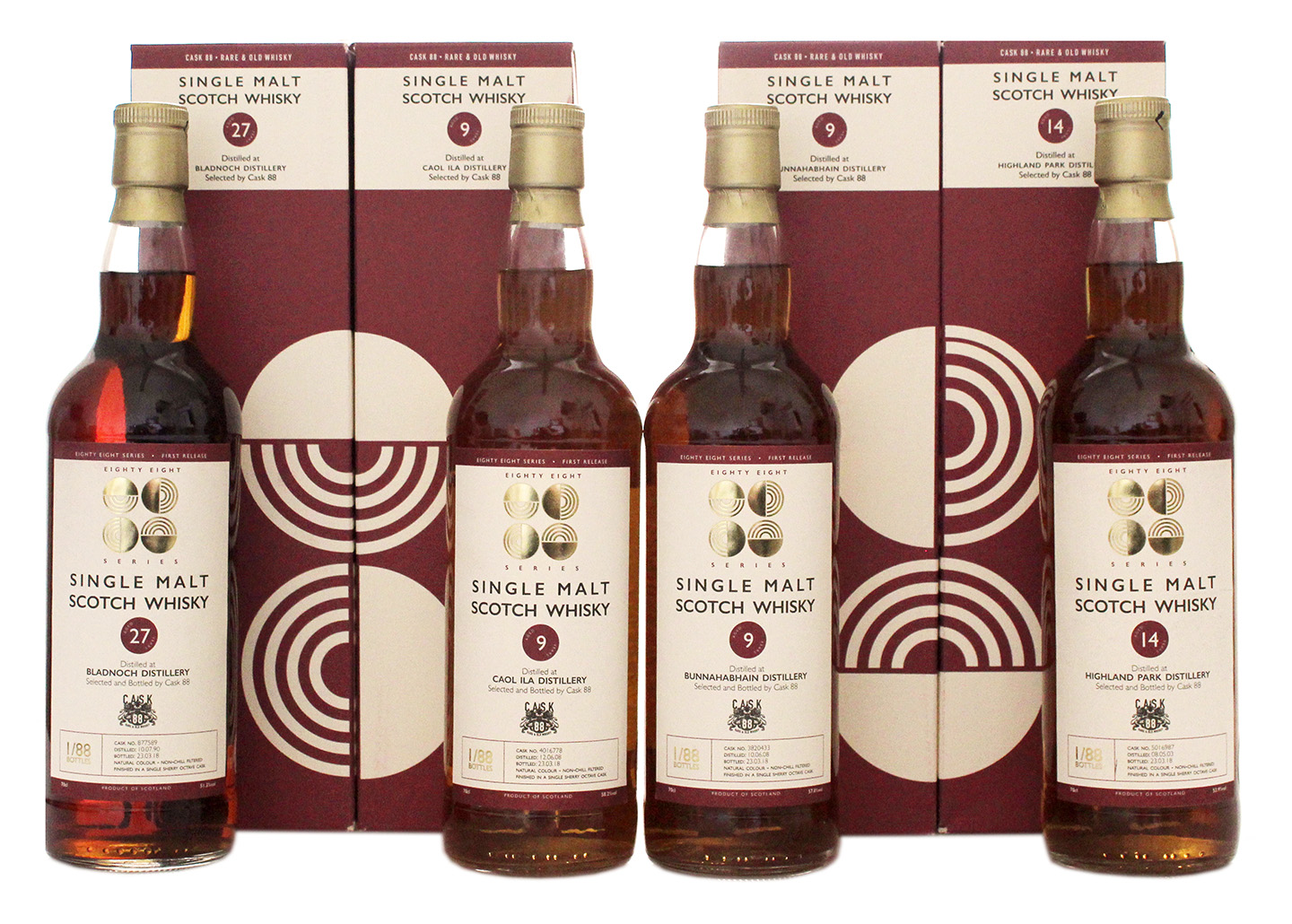 Experience Sherry Quarter Casks
Each of the expressions in the "Eighty Eight Series" have been finished in an ex-sherry quarter cask. Quarter casks, at one eighth of the size of a standard whisky cask, are capable of holding approximately 50 litres of liquid, yielding just 88 bottles of whisky. "The smaller cask size maximises the contact between the spirit and the wood, theoretically producing a whisky with a stronger, more complex flavour," said Cask 88 Sales Director Patrick Costello. "Whereas the wider industry favours larger casks to produce whisky on scale, we wanted to select something a little different, and focus on producing small batch whiskies that excite the senses."

Pushing The Boundaries
Having recently picked up two gold awards at the International Wine & Spirit Competition for the first release in their Scottish Folklore inspired whisky series, Edinburgh based Scottish whisky broker and independent bottler Cask 88 have quickly risen to become recognized for groundbreaking expressions that are in a league of their own. The "Eighty Eight Series" pushes the boundaries even further by combining an innovative maturation process with elegant bottle designs.

Caol Ila 9 Year Old
Hailing from Islay's famous Caol Ila distillery, this 9 year old spent the first part of its life maturing in a refill hogshead cask before being transferred to the sherry quarter cask for 9 months resulting in an earthy and slightly smoky spirit, as Caol Ila is famous for, backed up by grass covered dunes, sweet chillies, a range of buttery biscuit flavours, some ginger, a range of spices and much more. There is a whole world of smooth and intriguing flavours and smells inside this bottle that take your mind on a journey to the beautiful island on which the whisky was produced and they're just waiting to be explored.
Shop Now

Bladnoch 27 Year Old
Coming from the Bladnoch Distillery in the Scottish Lowlands, this 27 year old spent the first part of its maturation in a sherry hogshead before being transferred to the quarter cask for 9 months. The results are a powerful and intricate sherry-bomb that brings lots of burnt brown sugar, cinnamon, cherries, and tropical fruits together with butterscotch, toffee apples and freshly varnished oak table. With a little added water this dram really opens up as more juicy notes come to the fore. It's an all round beauty.
Shop Now

Highland Park 14 Year Old
Coming from one of Scotland's most famous distilleries, and the furthest north, this Highland Park 14 Year Old spent the first part of its life in a bourbon hogshead cask before spending a period of 7 months finishing in the ex-sherry quarter cask resulting in a complex dram that exhibits citrus fruits, subtle vanilla, lemon sherbet, custard creams, freshly baked pastry and a waft of heathery peat smoke that tops it off. It's a very intricate whisky that has a lot to be explored. Perfect for the trained nose or aspiring beginner.
Shop Now
Bunnahabhain 9 Year Old
The final expression in the series is this delicious 9 Year Old from Islay's popular Bunnahabhain distillery. The lightly peated spirit was initially matured in a refill sherry butt before spending its last 3 months before bottling in the ex-sherry quarter cask. The results are a relatively light and fruity sherry-bomb that brings faint smoke and juicy lemon on the nose followed by cracked black pepper, beach fire and marmalade on burnt toast. Then comes the long and warming finish with more bonfire and lingering smoke. It's a perfectly well-rounded dram that is smooth and easy to drink, despite being only 9 Years Old.
Shop Now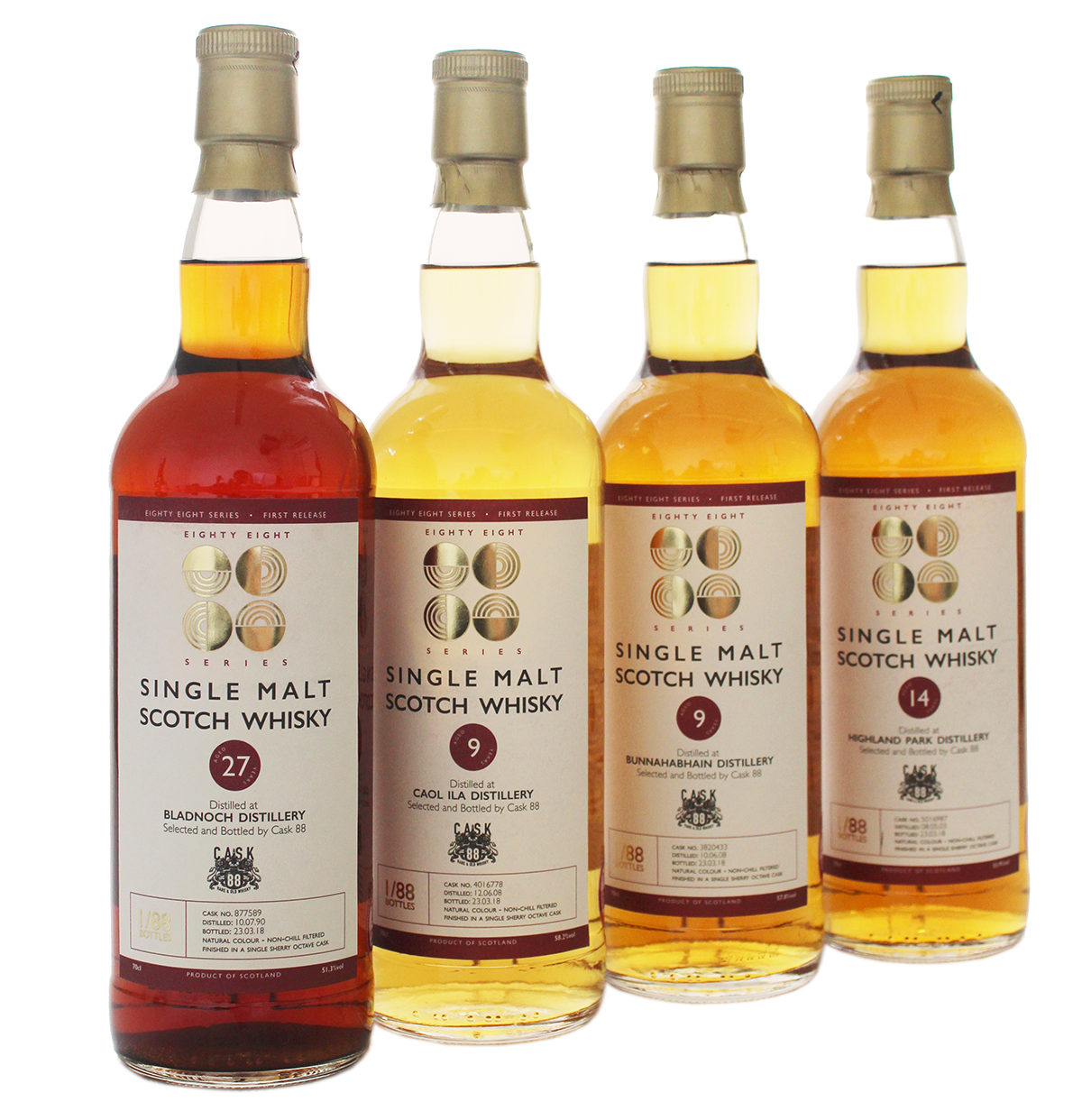 Limited Release. Reserve Now.
With only 88 sets available, this is a highly limited release. This beautiful new collection from Cask 88 is expected to sell out quickly.
To reserve an individual bottle:
Trouble choosing? Get the complete collection